What was your Mom like when you were a child?
Butch
I had an older sister who died before I was born. She was only 8 months old when she died. I came along 11 months later and must have been a Godsend indeed. My grandma Grace came over from England to be with my mom at my birth. I must have been cuddled and kissed and squeezed, but I don't remember much of that as I got older. It could have something to do with looking after the new arrivals, my sisters Judy and Lisa and my brother Ray (Bunny). Or maybe I just wouldn't stand for any mushy stuff. Perhaps it was some sort of stoic training for making me more self-reliant or independent. At any rate I don't feel like I had a warm physical relationship with her, although I did love her and I know she loved me.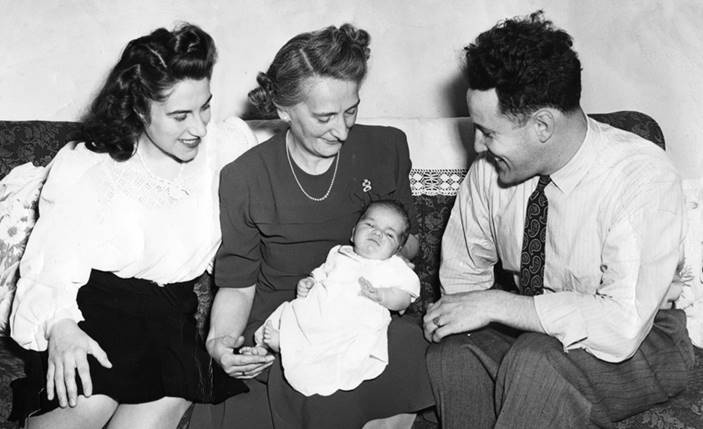 We lived in Webster City when I was born, but moved to the Des Moines area shortly after that. Iowa State College had a campus at Camp Dodge and we lived in Johnston, just a little north of Des Moines while my dad attended on the GI Bill. The army base had a huge swimming pool. I remember going there when I was a little older, but Mom must have taken me there when I was much younger too. I recall one time, I was by the side of the pool with Dad and Mom got up, dove into the deep end. She swam out to a raft in the middle. It was a huge distance, especially for a little guy like me. I was very impressed.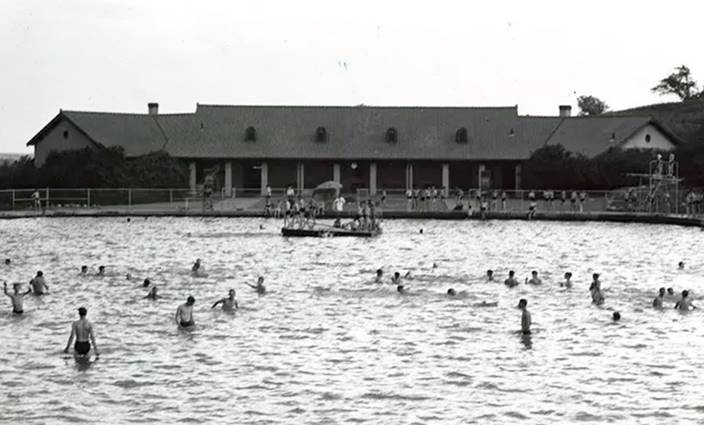 In 1950, for some reason that was never made clear to us, Mom took me and my newly born sister, Judy, back to England for 6 months. A long time. We sailed on the Queen Mary, so we rode the train to New York before the Atlantic crossing in October.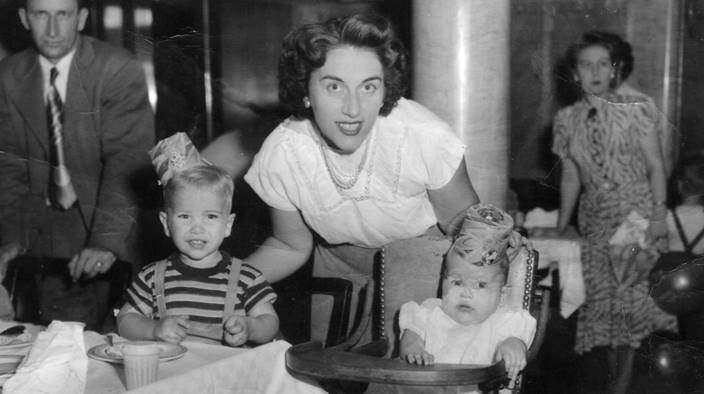 Maybe my mom was homesick for England and the support her family could give her that she wasn't able to find here. Her mother did visit in 1948, only two years after she arrived. But Mom had lost her baby in that time too. Interestingly enough, while being the second child in her family, she had three children (Carol Lynne, Me, and Judy) before any of the English cousins arrived. She also had the last grandchild born (Lisa).
Being from England, my mom had many different ways that she did or said things. I don't particularly remember that she had much of an accent. Why should I? It was what I heard all of the time. I did notice that in later years, when she came back from a trip to England her accent was much thicker for a month or so. My friends always thought she had an accent. They even thought us kids had a bit of one. Why would I think you shouldn't say "whilst" or pronounce the word khaki like "kah-key" instead of "kack-ee"? Or, hold your knife in your right hand and your fork upside down in your left. Not to mention a ton of manners that seemed to be a little bit off compared to what my friends did.
We moved to 3117 Merle Hay Road in 1950 and except for the time in England, we lived there till 1958. There were lots of kids in the neighborhood, the Larsons, Bradens, Leflers, and McCoys on our side of the street. On the other side were Ohnans (sp?), Vanessa and Vonetta, and Braffords. These kids were a little older than us. The Strains lived there too. Craig Strain was my best friend at the time. We often played "Red Light, Green Light" at dusk until we had to come in because of the dark.
My folks built a new house at 4111 52nd Street in 1957-58 and that brought another whole circle of friends; Frys, Fishers, Lohrs, Kendzoras, and Barlows. But these friendships didn't last as long because we moved to Cedar Rapids in 1960. Again, new friends.
I'm sure Mom had a lot of culture shock when she got here. She came to Webster City, a small midwestern town, from Peterborough in England which was a larger, more industrial town and my grandad was the sales manager in a furniture store, white collar so to speak. Most of my American ancestors were farmers only a generation or two before Mom came here.
My folks never seemed to hesitate to see that I had lots of educational or developmental opportunites. In their mind I should have been an engineer. I preferred to be an architect and that was close enough for them. I had one of the first 10-speed bikes in Cedar Rapids. I got a pair of expensive hiking boots when I went to Philmont Scout Ranch in 1963 and my dad rigged up a light weight aluminum pack frame for me to carry my pack on. They also sent me on a trip to the 1964 New York Worlds Fair to work in the Boy Scout Pavilion.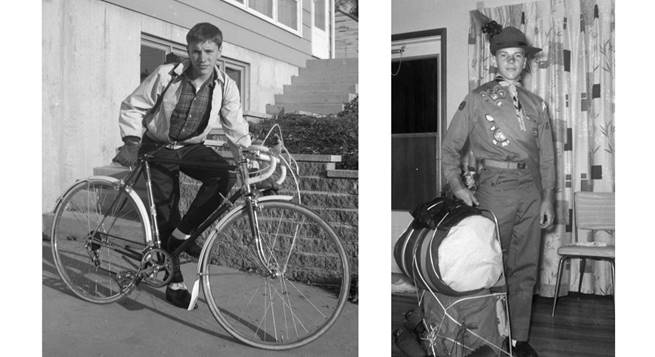 Mom liked to dress us up funny which I wasn't so hot on. She used to clothe my brother and me the same in matching outfits and did the same thing to the girls. One of her fashion schemes was to have Bun and me in flashy red blazers. I did like that. They had a cloth badge on the breast pocket with a wreath design on it. I thought it looked a little too generic so I embroidered the letter "T", for Thorpe on it.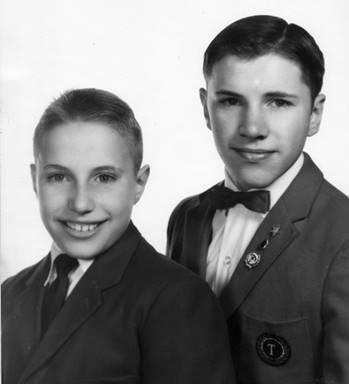 Later on in the 60's, bell bottom trousers were the rage. There were never enough of them in the stores. One remedy for this lack of inventory was to buy a regular pair of jeans, split the seams of the lower pant legs up to just below the knee, and sew in a triangular piece of material to make the bottom of the legs much larger in diameter. This was usually done with paisley cloth but in true hippy fashion, I got some bright, psychodelic, orange velvet from a friend. I asked Mom to sew them in for me, but she took one look at the flashy material and said, "Not on your life". Not to be thwarted, I got out her sewing machine and taught myself to sew. My brother Bunny insists that I wore these jeans to my wedding, but he is wrong. I had a genuine pair of bell bottoms that my cousin Sue bought me on Carnaby Street in London. They were a bright golden yellow color that matched the rest of my wedding attire perfectly.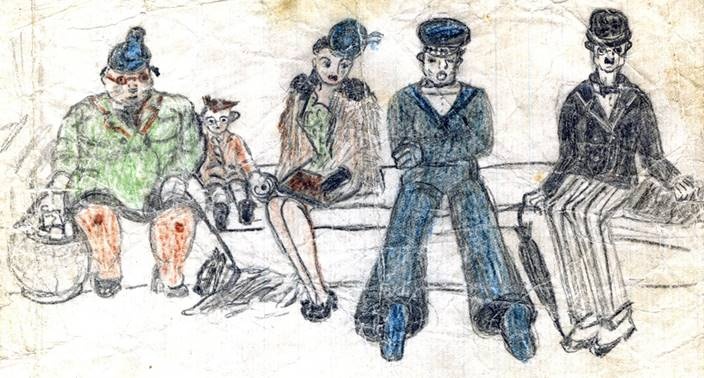 Both my parents were artistic, my dad in kind of a technical, drafting sense. My mom drew pictures of people. During WWII she wrote letters home to her parents and illustrated them with pictures of what life was like in the army. She could often be found sitting by the phone, doodling profiles of people.
All the time I was a kid, Mom would say, "Look, there's a Baltimore Oreole", or "That's a red-headed woodpecker". I never gave it a thought beyond learning which birds were which. Then one day I realized that none of those birds and all the others she told me about were native to England. She had to have learned them all since she came to America. Who knew, the secret Onithologist.
Mom died in 2015, just a month and a half short of her 90th birthday.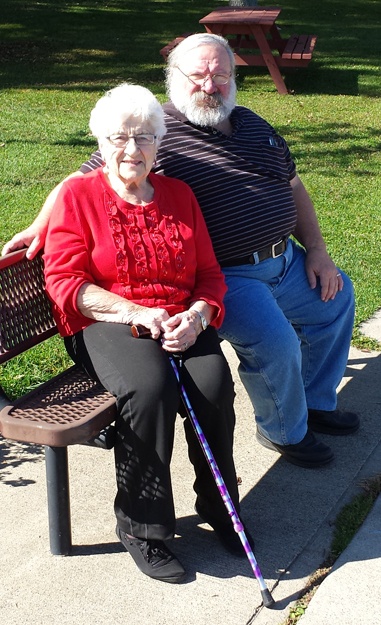 Karen
My mom was a stay-at-home mom for a good part of my childhood. I remember a happy, safe and secure childhood in a loving home. I have four siblings and we are quite spread out in age. My brother Dick is the oldest, born in 1935 in the midst of the Great Depression. Next came my sister Diane, born in 1942 during WWII. Sue is next, born in 1946 just after the war. Then me, born in 1949 and finally Linda born in 1955. I have often thought how hard it must have been to have had children spread across over 20 years. But I suppose there must have been some advantages too. Each of us had a chance to be special for at least four or five years – and the baby of the family. Later I figured out there had to be some planning involved!
When I was older, just after I was married, I asked my mom about the gaps between the kids in our family. I asked what she did about birth control which was not something that she would ever have discussed without a direct question. She said that her doctor had given her a recipe to make. The main ingredient was paraffin wax which she melted. She added a drop of rose water to give it a nice smell and then a drop of kerosene as a spermicide! The whole batch was spread in a foil lined pan then sliced into suppositories. She added that if she got too much kerosene they burned when she used them. Sheesh!
My mom took great care of us as kids. She sewed pretty dresses for us girls and always made sure we were neat and clean. She believed that kids should be outside playing as much as possible and often sent us out to play when our chores were done. Our jobs included keeping our toys put away, keeping our rooms and beds neat and tidy, and as we got older, we were in charge of doing the dishes and tidying the kitchen and general house cleaning each Saturday. She took great pride in our home and many of my friends commented about how clean and tidy our house always was. She was a stickler for doing our jobs well and many times we had to do a job over if it did not meet her standards. She could be crabby when we didn't measure up. Mostly we tried to do well so we didn't have to do things twice.
My mom came from a family of 12 kids and much of my parents' socializing was with my aunts and uncles. When they got together, there was always a lot of fun and laughter. Most times the adults had a few beers and they teased, laughed, and told stories about when they were kids. All my cousins were always there too so it was super fun for everyone! My mom had a great sense of humor and I loved her laugh. Though a lot of the time she socialized with her sisters, mom also had some neighborhood friends. All the moms on the street were somewhat responsible for everyone.
We had some freedom in the neighborhood but had well defined boundaries for how far away we could go. We lived a half block from the school so we spent a lot of time playing on the school grounds. We were supposed to tell my mom if we were leaving the street in front of our block and let her know where we were going. We would often be outside for hours just coming home for meals or bad weather. We also had to ask for permission to go into anyone else's house. No crossing busy streets until a certain age and no going to play by the railroad tracks(though we still did occasionally). As we grew in responsibility, we were allowed to walk to the book mobile, and walk or take the bus downtown. Free Range Kids!
Once, my neighborhood friends and I were roller skating on the sidewalk on our street. We saw a big owl (probably a great horned owl) perched in the tree in front of my best friend's house. As we skated under the tree, that owl would occasionally swoop down out of the tree and fly toward us. All kinds of panic and shrill screaming ensued every time that happened. My mom and my friend's mom came out to see what all the ruckus was about. They stuck around long enough to see the owl swoop for themselves. Since it was the middle of the day, they figured this behavior was odd. They decided they would throw a rock up in the tree to see if they could scare it away. Mom went first and found a nice sized rock to throw. She was not known for her aim or throwing ability but apparently luck, good or bad, was with her. She threw the rock and it hit that owl square in the head. The owl teetered a bit and then fell out of the tree right into the street. Everyone was stunned. My mom and Mrs. Gieskieng hustled all the kids off the street and into their houses. One of them called Animal Control and told them there was a big owl lying in the street. By the time they came to investigate, the owl was gone. None of us kids saw it fly away but we were all relieved that Mom didn't kill it! They laughed about that great throw for years after.
When I was about 3 years old, my mom went to work at Richter's Bakery which belonged to my Aunt Maxine and Uncle Bob. She took me with her since I had to be looked after. I spent a lot of my time sitting in the front of the bakery playing with my dolls and singing little songs. Customers would come in to buy bread, pastries, or cookies and would ask my mom if they could give me one of their cookies. I was all in favor of that of course and earned the name "cookie kid", cookie for short. I was called that for many years and Butch still calls me that.
When I turned 16 my mom was working at Bishop's Cafeteria in downtown Cedar Rapids. She was one of the hostesses and was in charge of all of the tray carriers and made sure everything ran smoothly. The other hostess was nice but could be a little strict. Once I got a job there, several of my friends got jobs there too. Mom made sure everyone followed the rules but it was clear that she liked kids and joked with the teenagers and got along well. It was fun to see that side of her and I was proud that she was popular with my co-workers. At the time, Bishop's had a deal worked out with the Coe College football team. Guys on the team, called Coe Boys, could come in and work for a few hours and would then be able to choose a good meal to eat in the evenings. Mom liked to tease and joke with them too. Years later when I worked in the central office at Prairie Schools my mom was sick. I often had to take her to the hospital in the middle of the night and stay with her until I had to go to work the next day. My boss and my co-workers knew how sick she was and how stressful it was to take care of her. When she passed away, my boss came to the visitation at the funeral home. As soon as he greeted me he said, "Karen, I just realized that I knew your mom. I was a Coe Boy!" He went on to tell nice stories about how fun she was and how much he liked her. I was very touched.
When I was in high school our house was a gathering place for our friends. We lived near Kingston Stadium where HS football games were played. My friends often came to my house and then we all walked to the stadium together. Afterwards friends gathered again in our kitchen where we made box pizza mixes, played games, and laughed and talked. My friends always were welcomed by my parents. HS years were filled with girlfriends, sleepovers and eventually boys that I dated. My mom made a point to get to know everyone. Later when I became a parent it was a model for me too. I loved getting to know my kids' friends and knowing the kind of people they were hanging out with. Also, it was an excellent way to keep track of what they were doing.
All my brothers and sisters eventually moved away from Cedar Rapids except me. Mom and I continued a close relationship with much joy and also some hardships until her death. I feel very lucky to have been able to share so much of life with her.