What are your favorite books?
Butch
Don't expect anything particularly profound on this topic. I was always a slow reader. So much so that I had to take a speed reading course just to get by in school. Any time I had to read, I was reminded of my lack of ability in this area. So, homework was a nightmare.

My favorite books are the ones that brought me a lot of enjoyment. They made me feel good but were not deep or meaningful.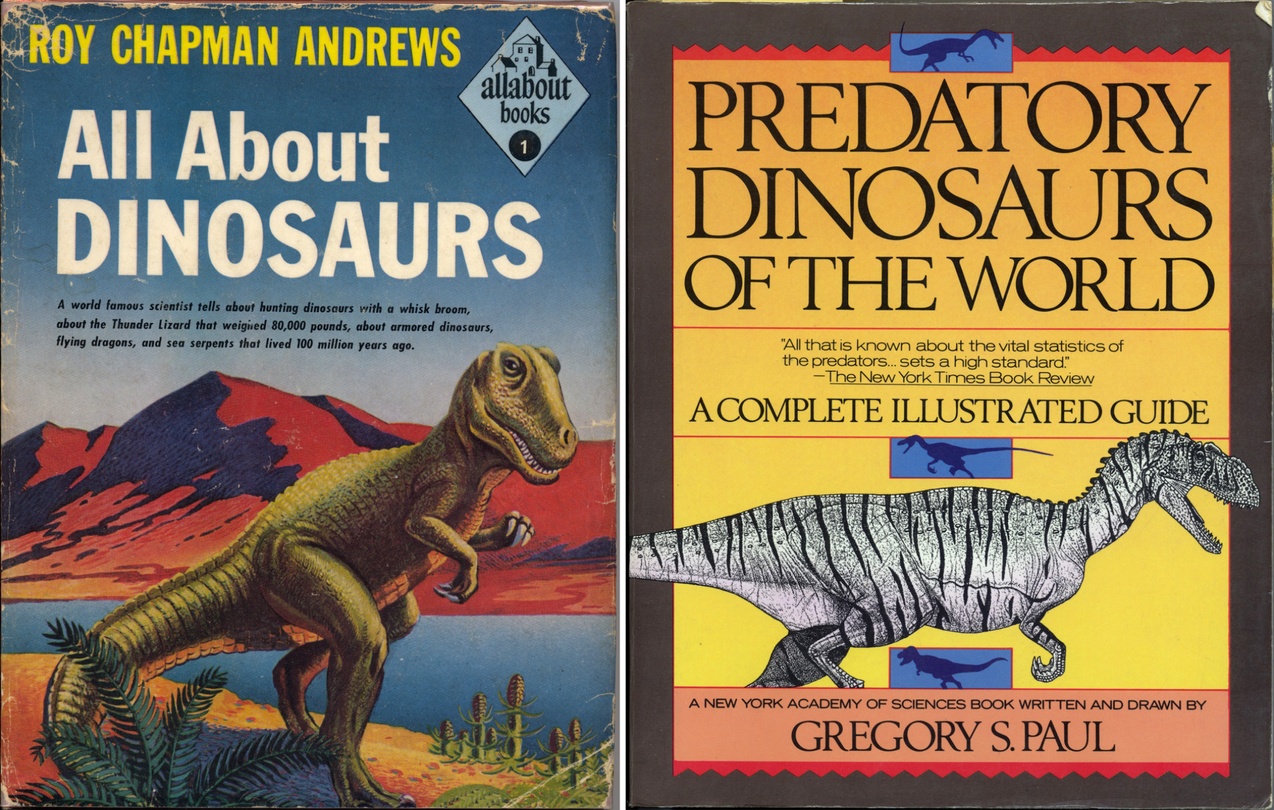 All about Dinosaurs / Predatory Dinosaurs of the World
In third grade at Riley Elementary I began a lifelong interest in dinosaurs. That was when they first introduced us to them in school. Mrs. Kappelman was my teacher and suggested I read "All About Dinosaurs" by Roy Chapman Andrews. Like all kids I memorized the names of the known species of the time. There were far fewer of them back then. But I knew Triceratops, Stegosaurus, Brontosaurus, Ankylosaurus, and of course, Tyrannosaurus Rex.
Over the years I kept up my interest, following new discoveries with enthusiasm. Gregory Paul published "Predatory Dinosaurs of the World" in 1988 but I didn't get a copy until Christmas of 1991, not till after I read Michael Creighton's Jurassic Park which was influenced by Paul. Especially as regards velociraptor. After reading Predatory Dinosaurs I too became a fan of velociraptor, but not the big ones as depicted in the movie, Jurassic Park, rather, the greyhound sized ones from Mongolia. I carved a model of its skull and even saw the "type" specimen, or the fossil the species is described by, in a traveling exhibition that came through Iowa. I was gratified by what an accurate job I had done in my carving.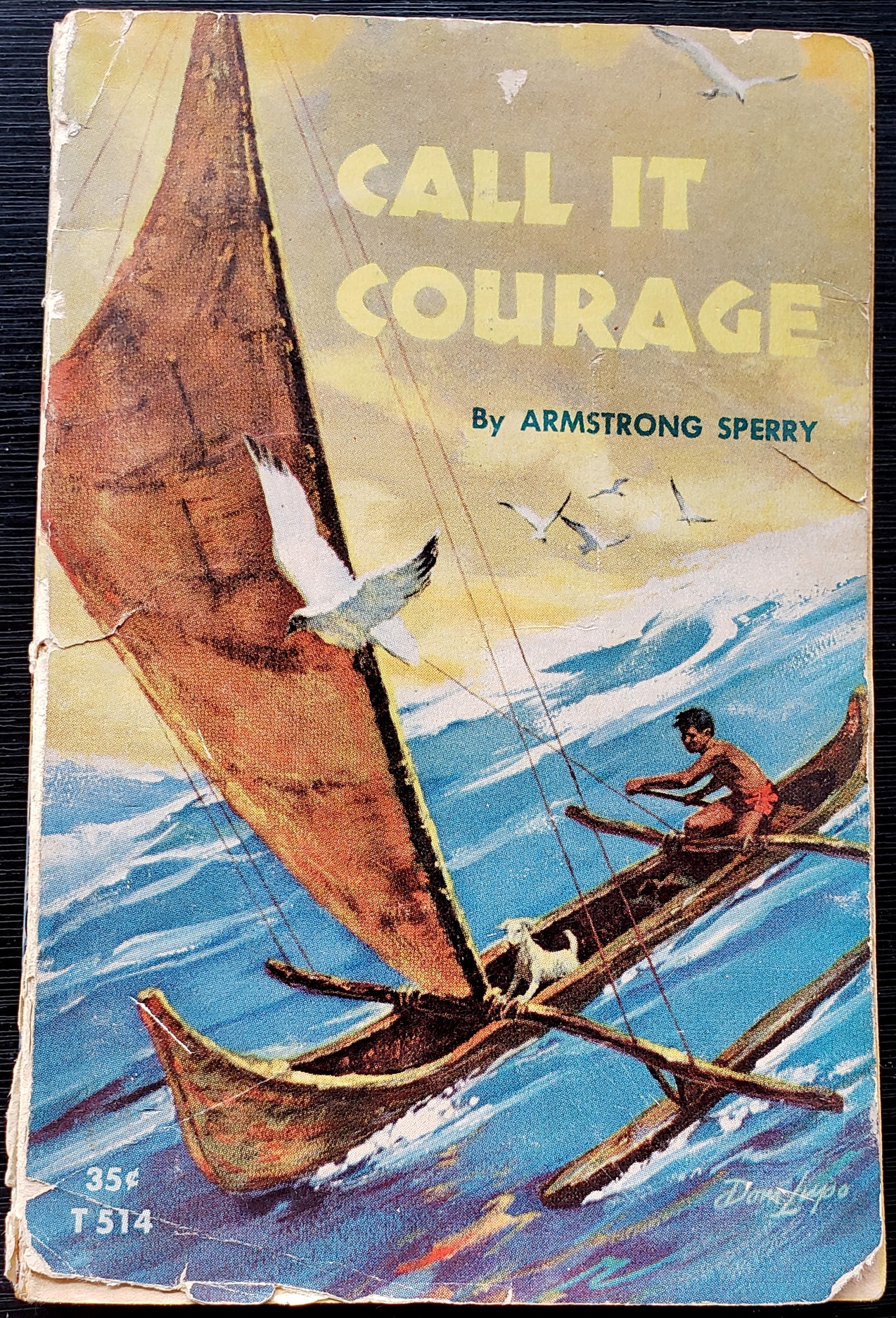 Call it Courage
By sixth grade I was at a new school, Moore Elementary. My teacher in fifth and sixth grades was Mrs Daggett. She would often read to us, usually towards the end of the school day. One book she read us was "Call it Courage" by Armstrong Sperry. This is probably my favorite book of all. It is the story of a young Polynesian boy, Mafatu, who was deathly afraid of the sea because it had taken his mother when he was very young. You can see how this could be a problem living in Polynesia. He would not go out and fish like the other boys. Instead he had to stay on the island learning the things that the girls did. So not only was he ridiculed for being a coward, he was teased because of doing the more domestic things. He has enough of it and one day and he takes a canoe and sets off with only his dog for company. He arrives at a deserted island which he discovers is visited by cannibals when they perform their grisly ceremonies. He also has run-ins with a shark and wild boars, as well as just having to do everyday things to survive. The domestic training he has endured these many years turns out to have been perfect to help him. The cannibals eventually come and he barely escapes and returns to his village a hero. The perfect ending!
Years later, I found a copy of the 1963 printing and I still have it to this day. Karen read it to our kids many times and I hope it is also one of their favorites too. Later on I found out that Disney made a movie of it. I also have a copy of that.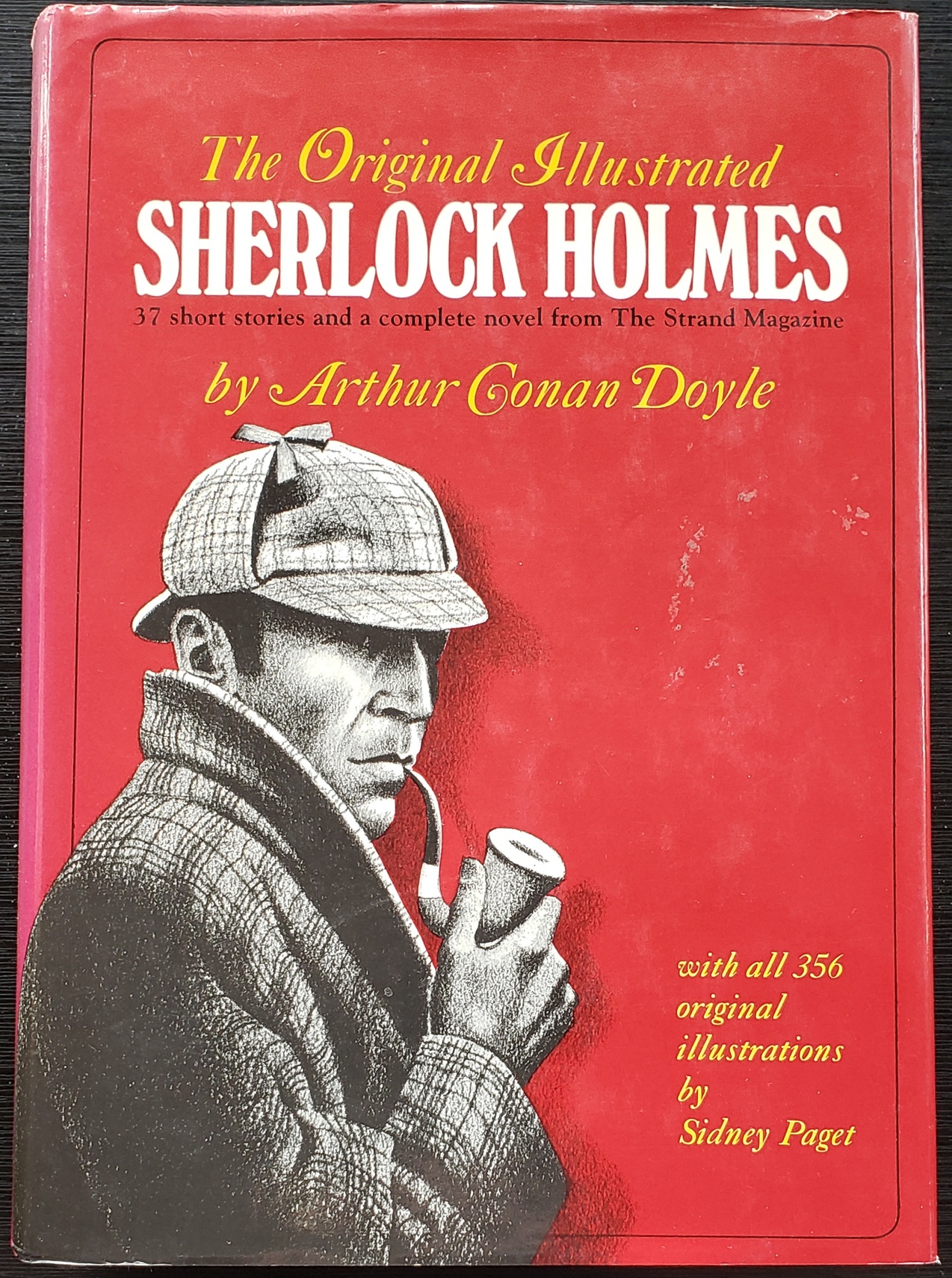 Sherlock Holmes
In the summer of 1966 I went to England. I must have read The Mystery of the Speckled Band some time in high school and it created a life long interest in these stories. The whole summer I would stop into book stores and see if they had any paperbacks that I hadn't already bought. By the time I got home I think I had them all but one which I learned was under a different copyright than the rest and never was available as an inexpensive paperback. Never mind, I eventually got them all in a comprehensive hard cover volume like the one shown here. I also have several other hard bound copies. I had watched several movies made in the 1940's and 50's starring Basil Rathbone and figured you couldn't do much better than him. At least not until Jeremy Brett came along. Too bad they didn't get all the stories dramatized before he died.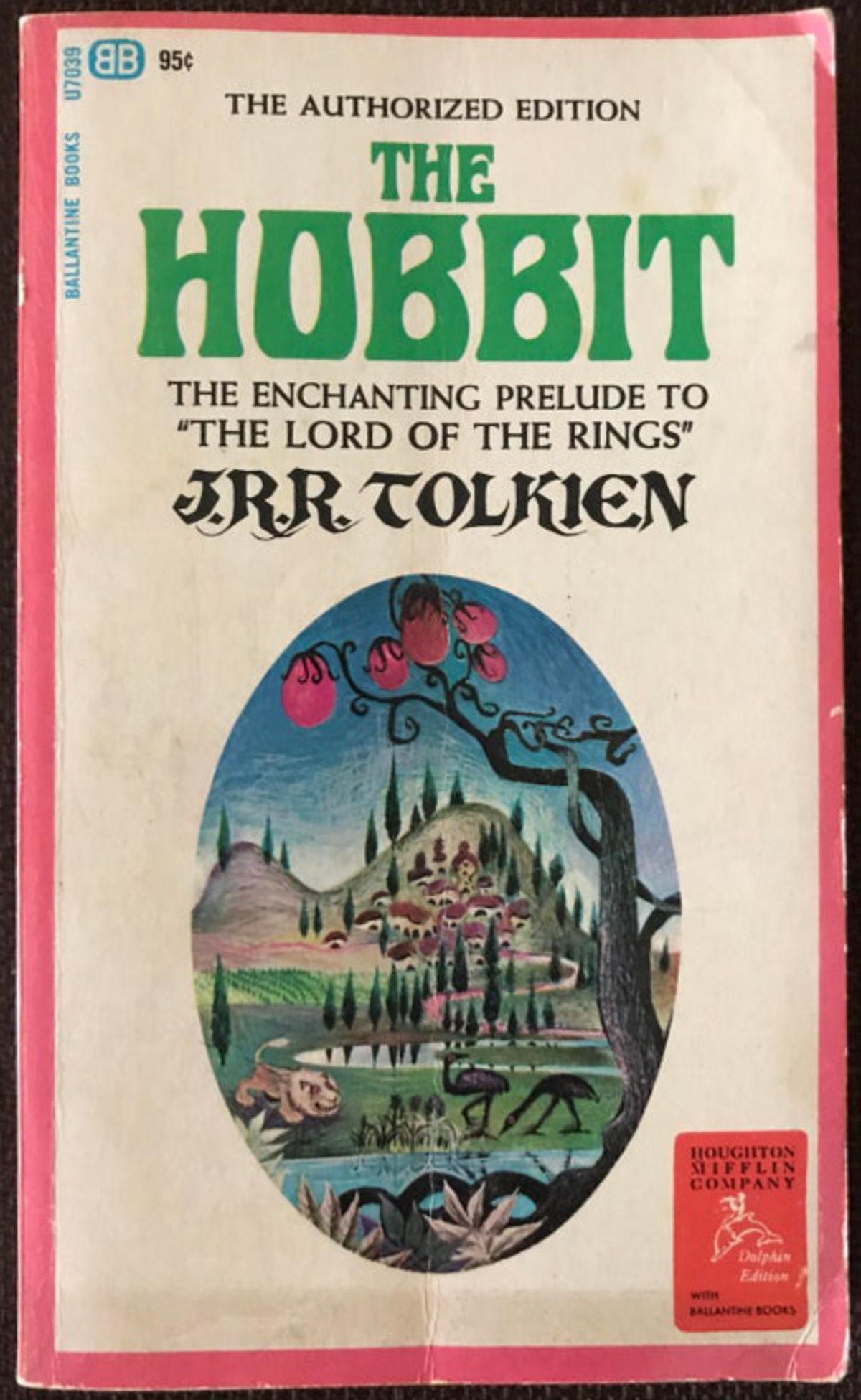 The Hobbit / The Lord of the Rings
In 1969 I had to have an operation and spent some time in the hospital. I asked Karen to buy me a copy of The Hobbit. "The Lord of the Rings" was all the rage but I knew it was preceded by "The Hobbit" and I thought it would be better if I read that first. It made the idle time I had to endure much easier and set me up for the Rings trilogy. Over the years I have read the books several times and seen the movies too of course.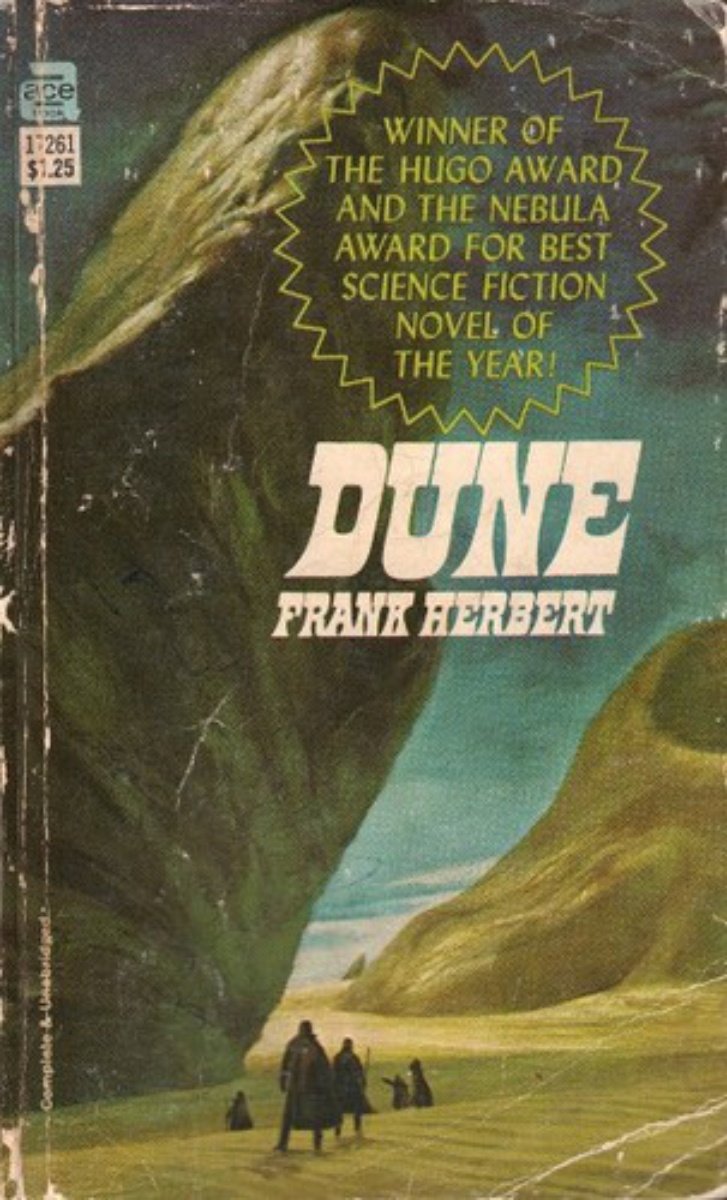 Dune
Dune was a good read. I liked it a lot but it wasn't overly great. What makes me include it in this list is that once I started reading it, I hardly put it down till I was done. I had never done that with a book before. This must have been about 1971. The movie came out in 1984. When I was watching it, I thought it had almost nothing in common with the book. So I reread it and I was amazed at how good a job they had done. When Star Wars came out in 1977 I thought that lots of it was ripped off from Dune.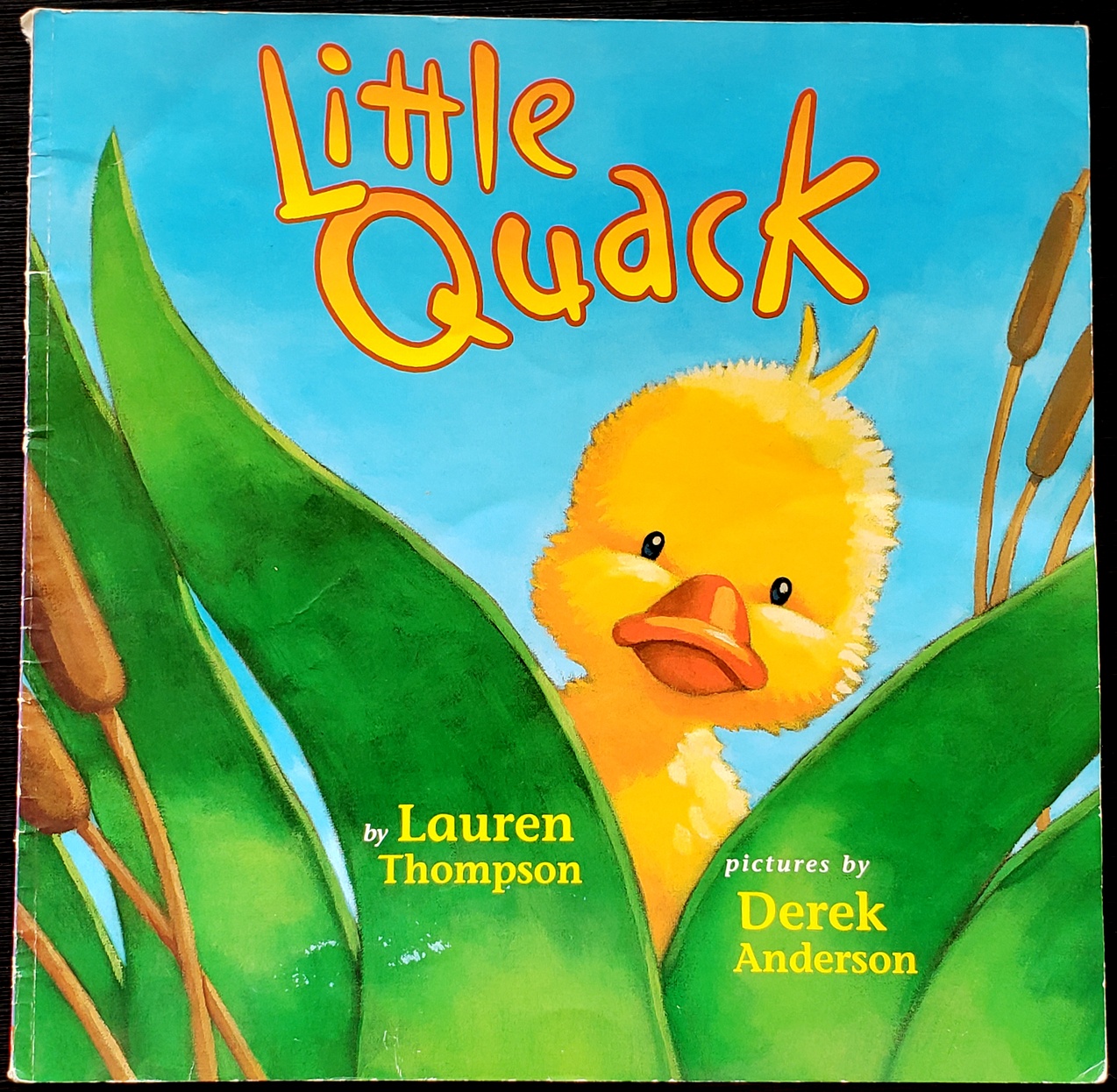 Little Quack
This is one of my favorite books not because of the joy it brought to me from reading it myself, but from reading it to my grandchildren. When I did, I would read it with a fake German accent. I had no particular reason for doing this but I guess I tried it one time and it just stuck after that. I renamed all the characters and even wrote their names down in the copy I gave to my grandsons Wyatt and Augie.
Karen
I have been an avid reader for my whole life. As a child I read everything I could find. My mother and older sisters took me to the children's section in the basement of the downtown public library whenever they went. I checked out a whole stack every time right up to my limit. In the summer time my sisters and I often walked to the Bookmobile that parked on the Sun Mart grocery store parking lot a few blocks away but the downtown library was my preference. The children's librarian was a lovely woman named Mrs. Zerzanek. She knew about every book in the library and sometimes had a suggestion for me when I arrived. I was a shy and quiet little girl and she asked me about the books I checked out and enjoyed. When I was in 5th grade I was wandering around through the stacks trying to figure out what to read next. Mrs. Zerzanek came up to me and told me that she thought I had already read every single book in the children's library. ( Probably an exaggeration!) She said that it was time to go upstairs to the main library and check out books from there. I was stunned that she knew anything about me and in awe of the idea that I could choose real grown up books to read. She offered to take me upstairs and introduce me to the main librarian. With such a richness of choice I didn't know where to begin. The librarian offered a selection of four or five books and suggested I choose my first book from them. I chose: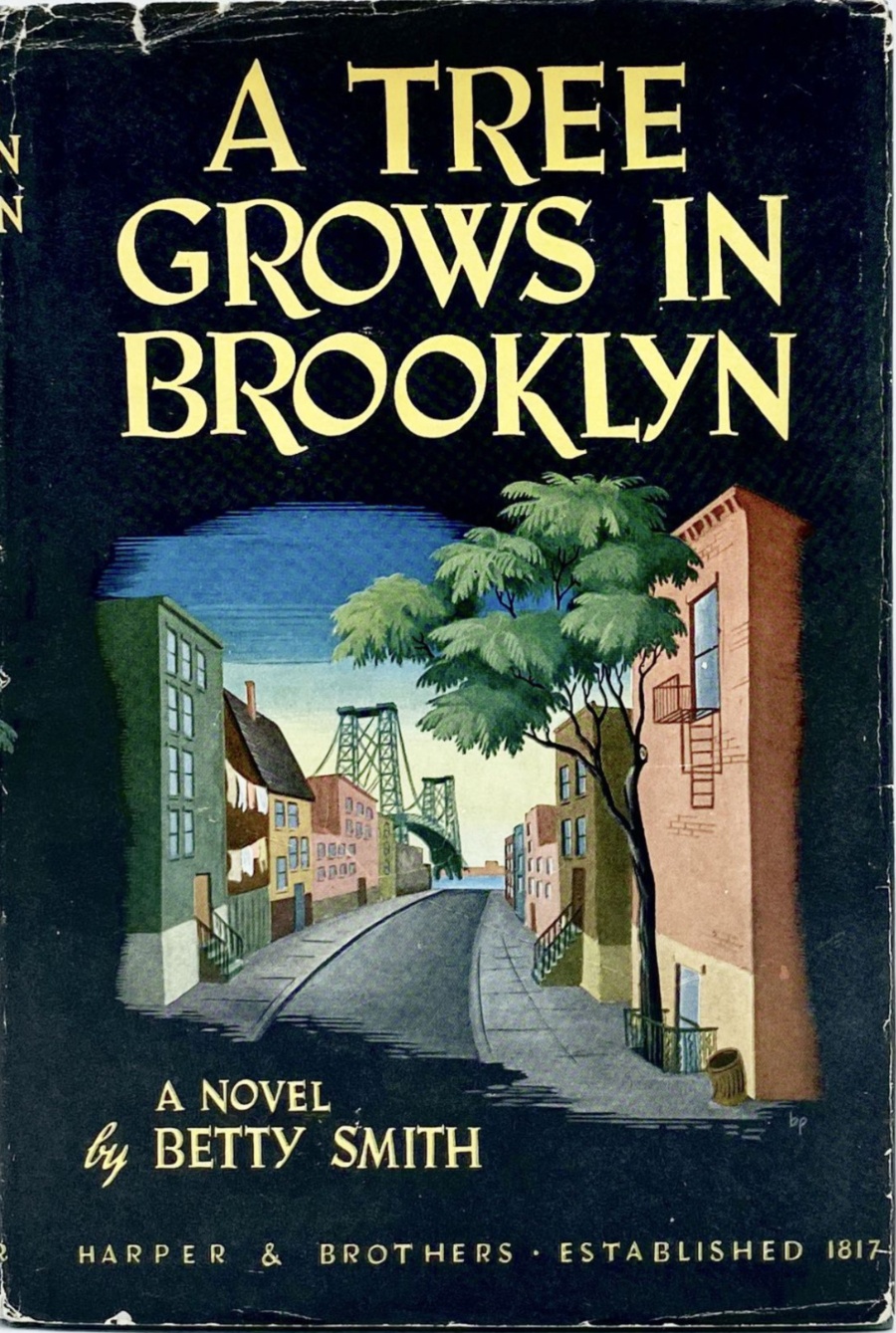 A Tree Grows in Brooklyn by Betty Smith.
This book was different than any I had read before and had a deep impact on me. The story takes place in the early 1900's and is the story of a young girl, Francie Nolan, and her family who live in a poor neighborhood of immigrant families in Brooklyn. Francie is eleven years old at the beginning of the story. She often escapes into books and imagines the life she would like to live when she grows up. Both of Francie's parent are first generation immigrants who came to America with their families and see education as a path to a better life for their children. Jamie Nolan is Francie's father and works as a singing waiter. He is an alcoholic and disappoints his wife and himself with his weakness for liquor. Katie Nolan is very down-to-earth and cleans apartments to make ends meet for her family. Eventually Jamie dies from drink and the family is left to struggle even more after he is gone. Katie is determined to give her children a better life at all costs. The tree of heaven is common in Brooklyn and grows up through cracks in the concrete to survive against the odds. This tree is a symbol of dreams, struggles, and perseverance running throughout the book.
This book opened my eyes to all kinds of challenges that I had no idea of in my sheltered life. It made me think about what was worth dreaming of, what it takes to overcome obstacles, and what qualities it takes for a person to keep going without much support. It was the first book I read that touched my heart in such a deep way and made me cry for sadness and also for joy.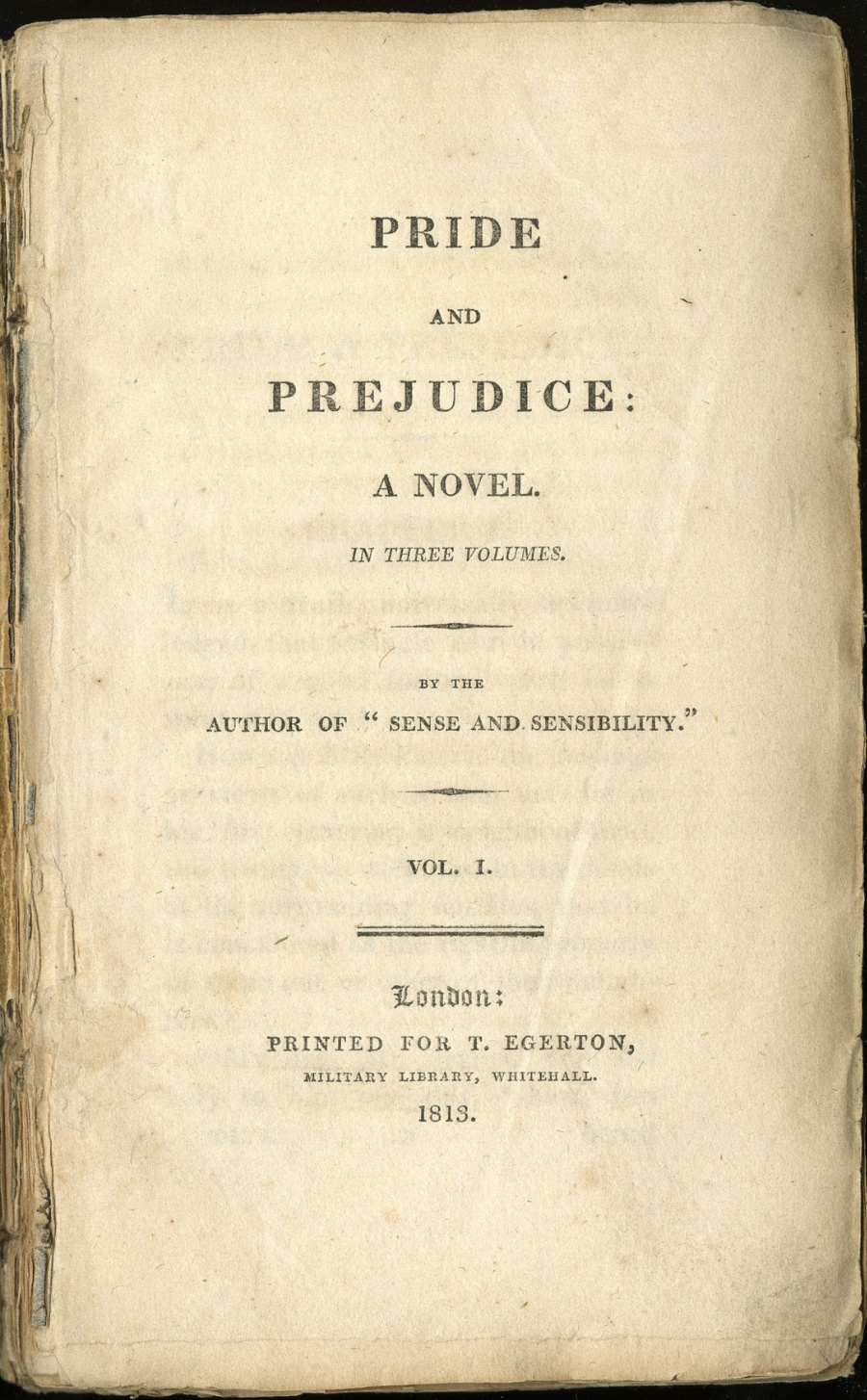 Pride and Prejudice by Jane Austen
OK, I admit it. I love to read a good romantic historical fiction book. This has to be one of the very best books in that category. If there is anyone reading this who doesn't know the story, it takes place in in England about 1810. Elizabeth Bennet is the second oldest in a family of five girls. Her father is a gentleman and owns a modest estate in the country. Unfortunately, the property is entailed, so that when Mr. Bennett dies, the estate will pass to a distant cousin, the odious and pompous Mr. Collins. Women, in most cases, are not allowed to inherit property. Mrs. Bennett is obsessed with finding well set up husbands for her daughters who can support them, and her, if the estate passes to the cousin. A new, wealthy, single man has leased a nearby estate and moved into the neighborhood. He has brought his even wealthier friend, broody Mr. Darcy with him to help him learn how to manage a property. The story revolves around a series of misunderstandings, prejudices, and prideful behavior, between Elizabeth Bennett and Fitzwilliam Darcy. The couple is attracted to each other almost against their wills. There is an evil villain in the person of Mr. Wickham, and many misbehaving relatives who add to the drama. Elizabeth and Darcy both learn unpleasant truths about their own characters and eventually work to become better people.
This is not deep literature but Jane Austen wrote and anonymously published this book and others in a time when women were not allowed to have a career or earn money for themselves if they were born into the gentry. Nearly everything a woman did had the potential to compromise her reputation and ruin her opportunity for a good marriage. And marriage, in any class was a priority for her survival. This and other historical fiction, regardless of the time in history of the setting, helped me to understand the things all women have had to overcome to get to the place we are today. Jane Austen, you go girl!
For part of my career as an educator I served as the school librarian in the Media Center at Prairie View Elementary. I had the joy of greatly expanding a poorly funded and neglected space into a beautiful , modern, and functional library. I also had an amazing budget to create a collection of gorgeous picture books, nonfiction books on every topic, and fiction books to entice all children. Kids in my school were welcome in the library and invited to love books as much as me. I was in heaven. I read every single book that I put on the shelves. I had many favorites but loved the ones I could read aloud in one setting.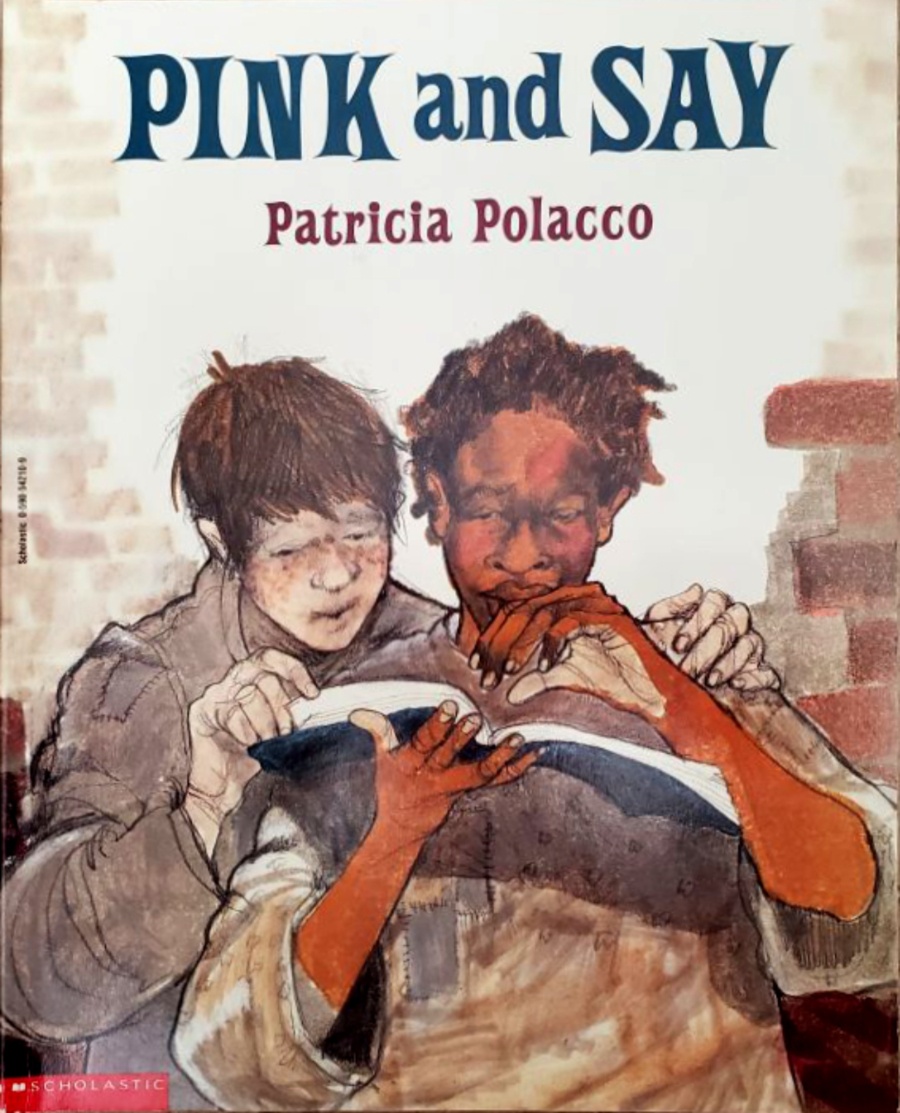 Pink and Say
One favorite author was Patricia Polacco, who wrote and illustrated lovely books. One I particularly loved was Pink and Say. The story is true and was passed down from great grandfather, to grandmother, to son, and finally to the author-artist herself. It takes place in the civil war and the author's ancestor, a Union soldier who is barely more than a boy, was wounded and left for dead on a battlefield. Another young Union soldier, also wounded, finds him and takes him home to be nursed back to health by his own grandmother, Moe Moe Bay. As the boys regain their health and their strength, they realize that staying in Moe Moe Bay's home in Confederate territory puts her in great danger. They leave and their interracial friendship grows and deepens. The story is poignant and has many themes of friendship, loyalty, sorrow, and hope. It generated lots of discussions, not only about history and race, but also of the continuity of stories in families. It was always hard to read aloud without shedding a tear.
Now, I mostly read novels, and particularly like crime stores and mysteries. I look for books that are well written and include well developed characters in interesting times or places. Two series I enjoy are written by the same author and also incorporates my interest in World War I. I say author, but actually the books are written by a mother and son writing team who publish under the name Charles Todd.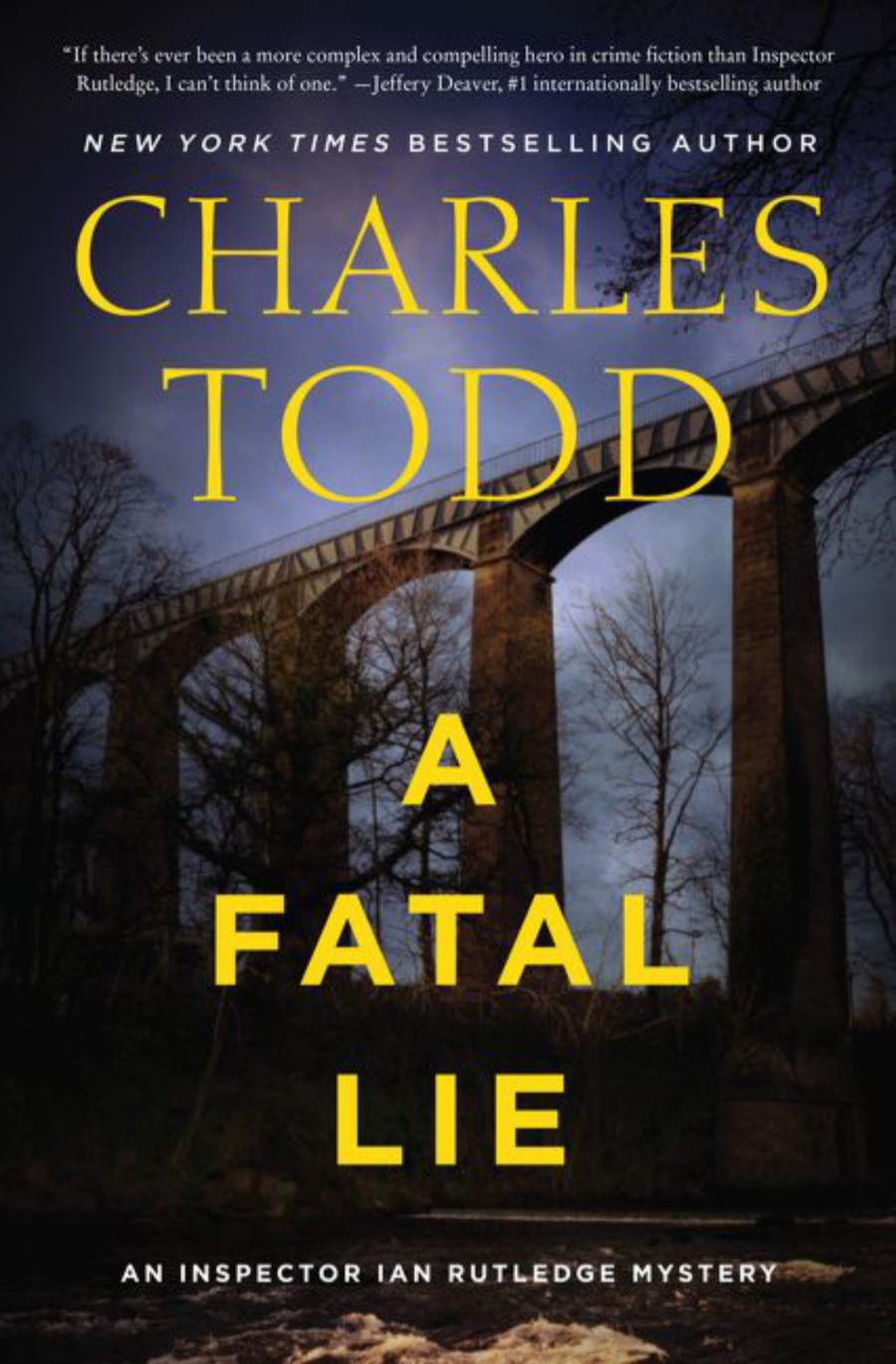 A Fatal Lie
The first series is about a Scotland Yard detective, Ian Rutledge, who has returned from WWI with shell shock. He spent some months in care to help him be able to function as a civilian. As an officer near the end of the war, his duty was to send men into battle when there was only a small chance for their survival. At one point a soldier who had fought heroically over more than a few years under him refused an order to go over the top. His punishment, determined by military court, was to be shot. It was Rutledge's responsibility to carry out the order for punishment as an example to others. The horror of what he was ordered to do was carried home from war. During the course of his cases, the soldier he killed is constantly at his shoulder making comments, advising, and keeping him from finding his own peace.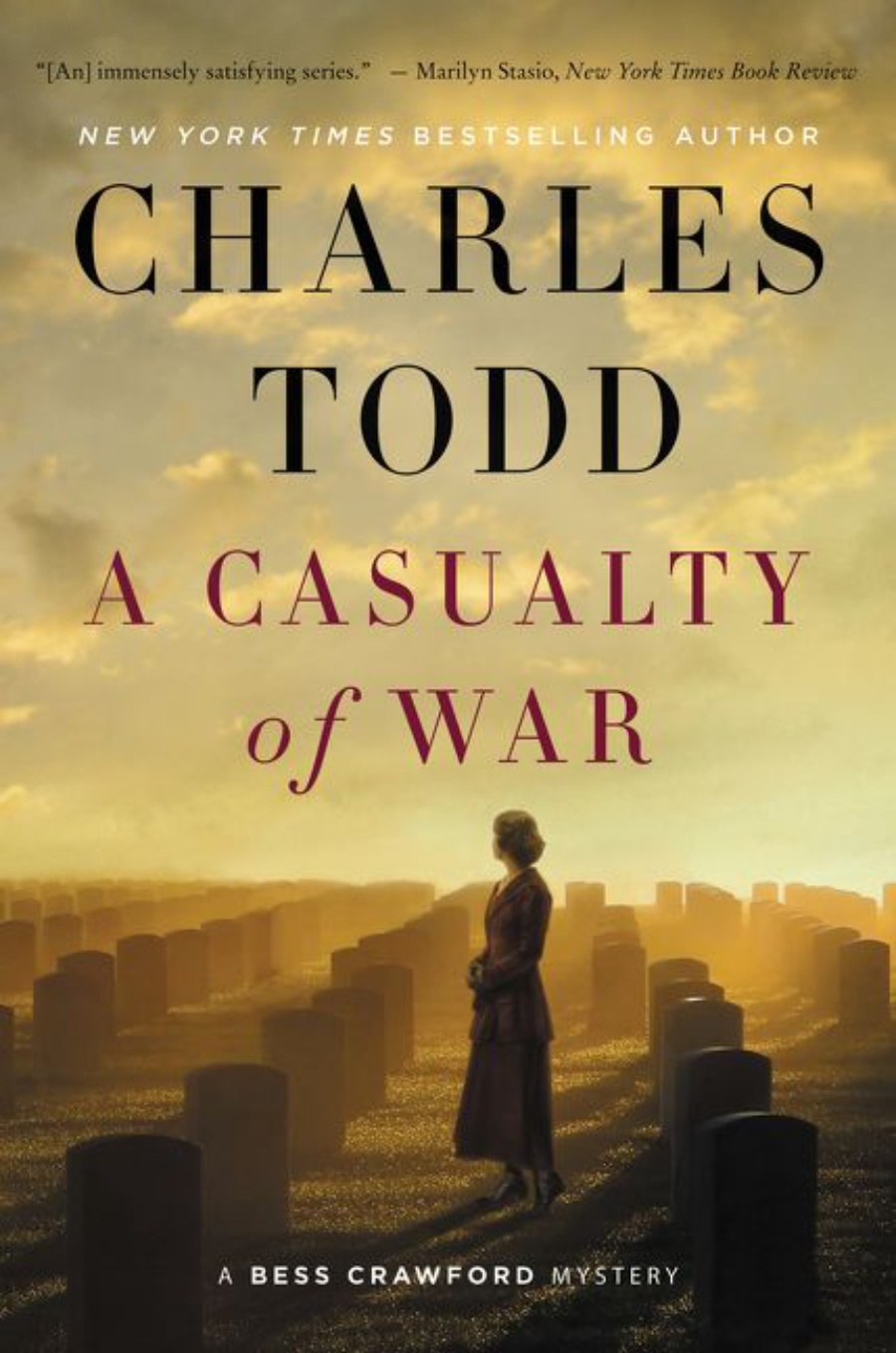 A Casualty of War
The second series by the same author team is about Bess Crawford who trained as a nurse as soon as WWI was declared. She served on the front lines and at aid stations and field hospitals for the duration of the war. These stories are also mysteries that are solved amid the horrible wounds and suffering of the soldiers. The books are set at intervals across the whole length of the war and in the latest books depict the aftermath that includes men returning home with horrible wounds, both physical and mental, trying to begin new lives.
This post is part of the StoryWorth project that I am participating in.
At the ButchieBoy main page click the "StoryWorth" category to see the rest of the entries.