What is the best job you've ever had?
Butch
At Midwest Metal Products I still had a lot of freedom about the way I did things, but all the administrative nightmares were assumed by others. MMP was a "job shop". That is, it did not manufacture a set product, but worked on projects that people brought in one at a time. So, every job I worked on was different than the last one.
The company had not had a draftsman for about 6 months until I was hired. Up until the time I was hired as a design draftsman the boss drew up plans for the work freehand on a legal pad. This left tremendous room for making errors. I got to organize the entire drafting department.
People came in and talked to us about what they needed. When I arrived, the boss pretty much handed them over to me. Later on, he hired two other draftsmen but they didn't report to me. We all worked independently on our own projects. This job was in 1970 and 71.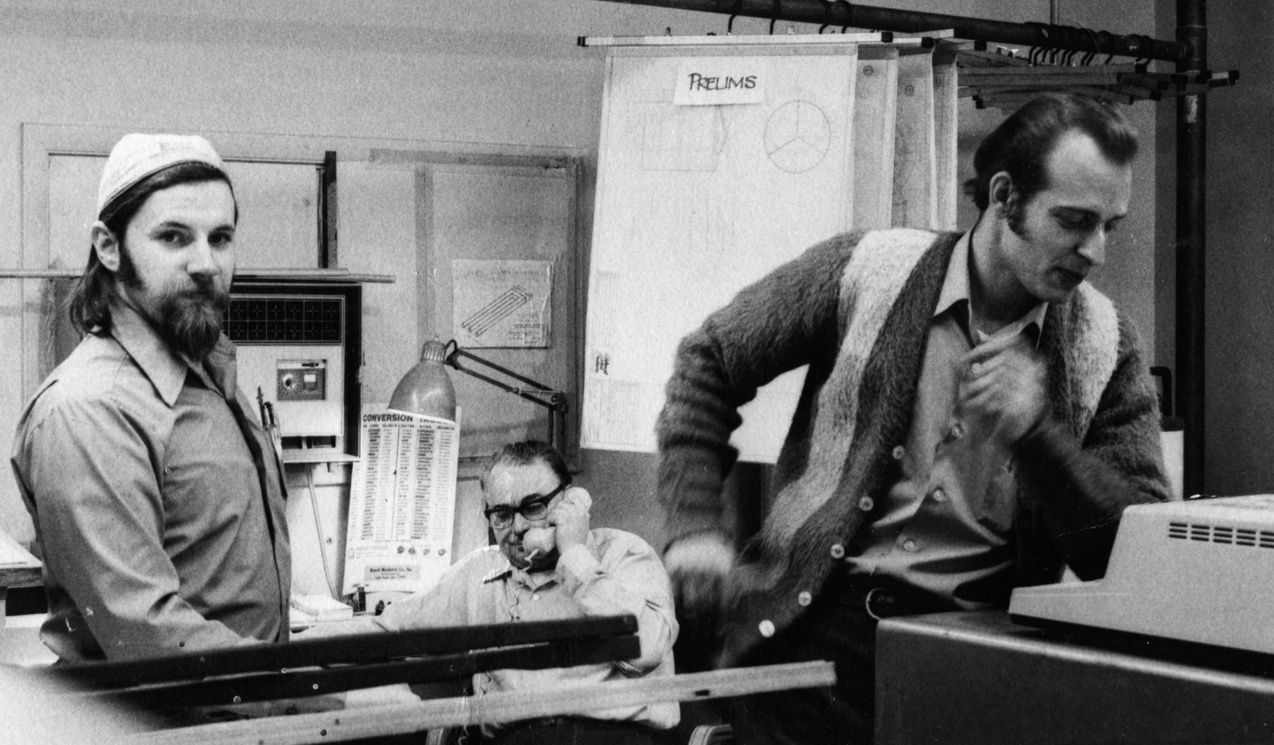 One of the new draftsmen, Bob Peterson, became a very good friend and we are still friends to this day (2021). He worked on mechanical projects. The other draftsman was Joe Sudlek. I don't exactly remember what he did.
During my time there I got to engineer the way to fabricate several sculptures designed by a professor at the University of Iowa, Julius Schmidt.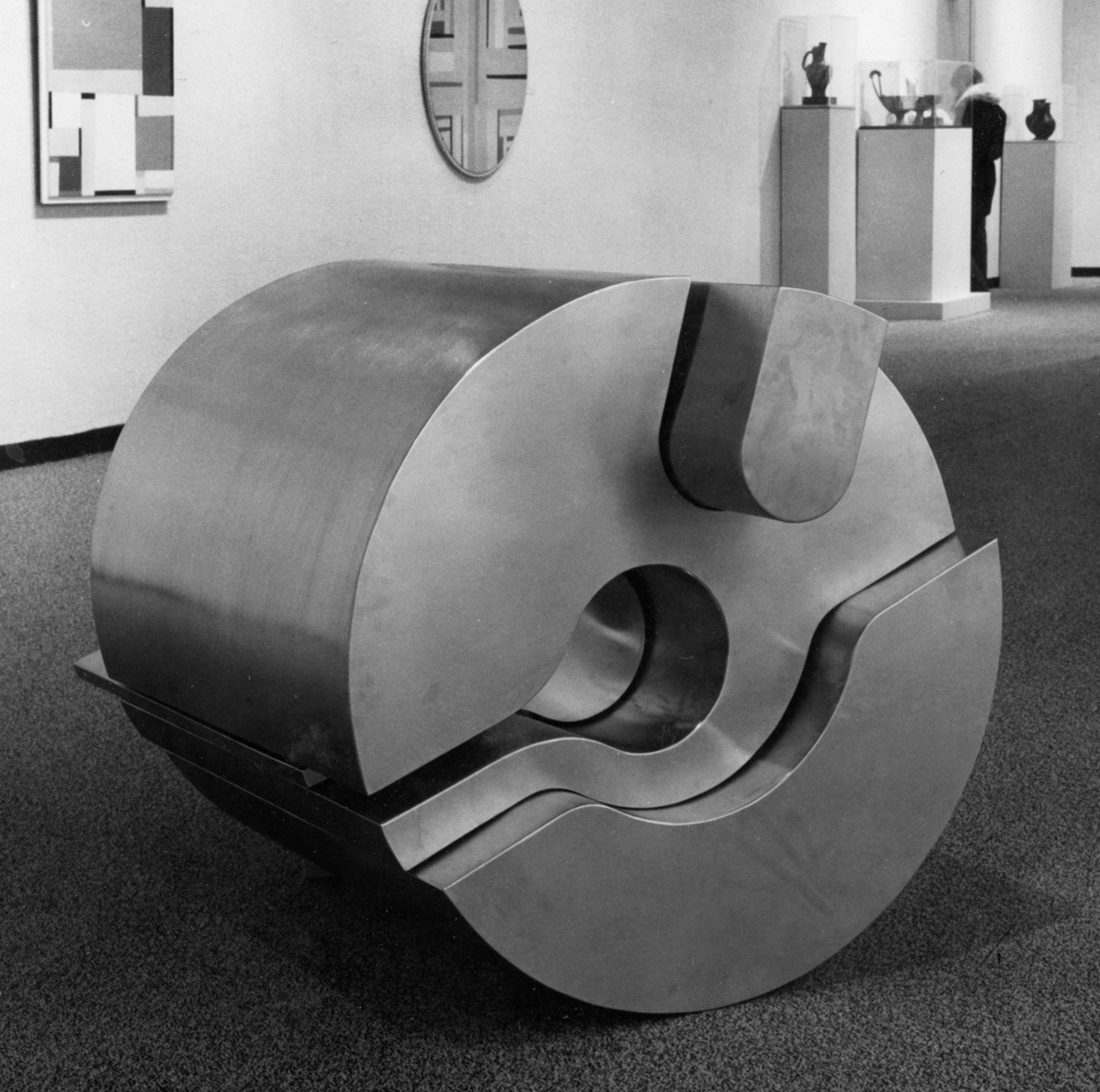 We had a large number of projects for Cargill that included stainless steel tanks for making corn products, and a huge burner for drying out corn starch. But the most interesting job I did was for a repair to a gigantic centrifuge. Corn was processed to a flour-like consistency in a wet process and then loaded into the centrifuge. It spun around till the flour was almost dry, then a blade ran up against the inside of the drum and scraped the flour out. The flour tumbled down a drainage gutter and then on to the rest of the production process.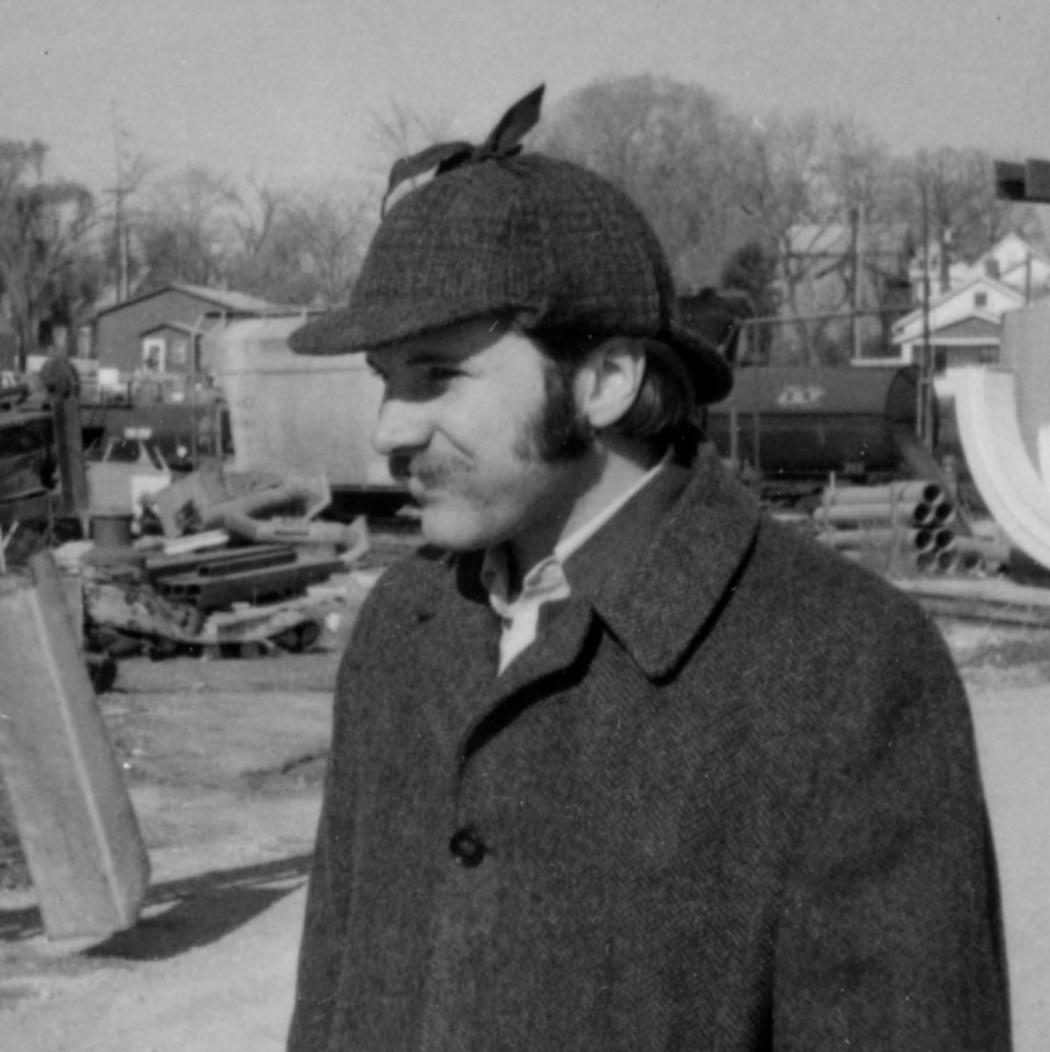 It was this drainage gutter that broke. It couldn't be repaired and since it was manufactured in the Netherlands, it would take months to be replaced. Cargill came to us to see if we could do better. They had all the blueprints of all the pieces of the machine and one of them was for the drainage gutter or "afvoergoot" as it is called in Dutch. That's right, all the blueprints were in dutch and the measurements were metric. I could have converted them to English but I thought it would be better overall if I did the plans in millimeters. The configuration was very complex and had been cast into the shape it was. We couldn't manufacture such complex curves but we could make the part out of carefully arranged, triangular pieces of stainless steel. We got the job done and it turned out great.
Since a lot of the work Cargill does is processing corn, a lot of the type of equipment they use is also used in Mexico. Therefore, a lot of people that design that type of equipment are Mexican engineers. They were transplanted here while we were manufacturing the equipment used in the new Cargill plant that was under construction. We called them Señor Juan or Engineer Juan. They introduced our boss, Ray Urban, to the joys of eating hot, Mexican food. Back then, hardly anyone in Cedar Rapids ate Mexican food except Mexicans themselves.
While I worked there, my mother decided to treat the whole family to a month long vacation to England. When I found out, I told the boss that I was going to be gone for a month and that I would like to have time without pay for anything over my vacation. He would never answer me and tell me if that was ok or not. The day before we left I said, "I'm going to England tomorrow. Is that ok?" He never did answer. So off I went to England not knowing if I would have job when I got back.
When I did get back I called him and asked if I could return to work. He said I could and I asked him what about my salary. I suspected he might cut my pay or something. He said, "Oh, I'll give you a raise." But the next day when I showed up he told me he couldn't give me a raise because while I was on the flight home, Nixon froze all the wages and prices. Not a big deal overall, but just my luck.
I continued the fun stuff I had been doing before but I noticed that the boss was acting a little strangely. He was really getting into the hot Mexican food a lot. He bought a snowmobile which he kept at work. He would send us workers out on the snowmobile with a sack of corn and a sack of pea gravel to feed the pheasants that hung around in our edge of town location. Things just got stranger and stranger. Shortly after that I was planning my next vacation and I told him I would like to take it at such and such a time. He said that when I went to England I had officially quit and that after restarting I hadn't put in enough time to have earned any vacation. Right. There was no policy to back this up nor any sort of national rule. He was just doing it out of meanness for whatever reason I don't know. I left work that day vowing not to return. When I got home Karen called and told me she just wrecked the car and I said, "Great, I just quit my job!"
I found another job pretty quickly so all worked out there. A month or two later I ran into the vice president of Midwest Metal Products and was complaining a little that I thought I had been treated unfairly. He said, "Didn't you know? Ray (the boss) was dying of Leukemia" and that's why he was acting so goofy. I felt a little bad about that. I think I could have risen quite high in that company if I hadn't quit, but live and learn.
Karen
My career as an educator actually gave me an opportunity to fill a variety of roles. Except for a brief period of subbing when I first graduated, and one year teaching half day kindergarten in Cedar Rapids, I worked in the College Community School District. I worked in the district for 36 years and in that time I was a classroom teacher for grades 1-3, a librarian, a gifted and talented teacher, a teacher leader, and finally a central office administrator.
I loved being a teacher and really liked getting to know elementary aged kids. They are mostly loving, kind, curious, and funny at that level. I also made life long friendships with other teachers who I consider some of the best, most dedicated people in the world. I truly always liked my job even when it was stressful and exhausting. There was always something new to learn and there were all those great kids to know. It was hard to pick a best job out of all the jobs I held because each one had been good. I finally settled on my time as the Prairie View Media Specialist as the best job of all.
This was a very rewarding role for me. The library in our building was small and had been poorly funded for many years. When the Ridge building was proposed as the first new elementary building to open in a long time, all of the other buildings were expanded and updated so that all students had the same access to resources. I had the exciting opportunity to work with the building architect who was designing the space and with other district media specialists to plan for the new media centers. I had always been a big reader and this was an opportunity to open a top notch library for our kids. I was not a certified librarian and relied on my teaching experience and love of books to see me through. I had a steep learning curve.
First, the average library budget for new books was about $2-3000 for a year at that time. To upgrade the new library in our school I was given a budget of around $40,000. It was an amazing amount of money but money would have to be carefully spent to get everything we would need. I worked on ordering a balance of fiction and nonfiction materials across the k-5 grade levels taking into account interests, content learning, sturdiness and appeal. I wanted to get books in the hands of students and wanted them to be excited about what they would find inside the new library. Previously, since budgets were so small, every book had to last forever. The books that had been purchased had sturdy library bindings with no pictures on the covers. I bought books that looked more like hard cover paperbacks. Every one of them were brightly colored and appealing. I focused on buying new titles that would reach student interests while relying on recommended book lists of all sorts. The media specialists worked together to buy many things in common but were also on the lookout for things to enrich the collections already in place. It was very hard work and we all spent hours pouring through book lists and finding the best deals possible.
At the same time we were switching to an automated library system with automated checkout and electronic inventory. We had to label and process every new book in a consistent manner, then load the information into our software. I had a library assistant for much of the work but it was important for me to learn how the system worked so that I could teach her how to do it. That also meant that for the first time, we would have computer stations for students to use to search for information and find what they needed…also my job. Also, each building would set up a computer lab for students and teachers to learn how to use new technology in our building. These labs would be supervised by technicians who were not certified teachers so each media specialist had to help set up these labs and support how they would be used. Finally, I also was in charge of the Extended Learning Program for the building and worked with fourth and fifth grade students who were identified as gifted and talented.
It was a big job to have all of these roles and it was a very busy time for me. The summer before the new library opened I read every new fiction book that I had ordered so that I would be familiar with everything kids would be reading. During those first years especially, kids were thrilled with all the new books and excited to learn about the new library. The parts of the job I liked the most were reading aloud to the little ones, helping kids find books that they wanted to read, being silly and dressing up like book characters, and making the library friendly and fun to visit.
This post is part of the StoryWorth project that I am participating in.
At the ButchieBoy main page click the "StoryWorth" category to see the rest of the entries.