Sign Painting
Magic Car Wash
In 1965 my grandparents, Arch and Grace Bellamy, traveled from their home in Peterborough, England, to visit my folks in Cedar Rapids. As part of their vacation my folks planned a little road trip for them. While they were seeing the sights, I was shipped off to visit my friend, Bob Lohr, in Des Moines for a week. Both he and another friend from the time we lived in Des Moines, George Vignovich, worked at the Magic Car Wash. When they were at work I had to hang around till the end of their shift. George had a racy car so I would draw pictures of it. I usually drew it as seen from the front with the car doing a wheelie, smoke pouring from the rear wheels, and driven by some floppy tongued monster with a stick shift lever sticking out of the sun roof. The owner of the car wash was impressed by my drawings and asked if I thought I could paint a sign for him. I told him I thought I could so off we went to a nearby Sherwin Williams paint store. He bought a variety of paint brushes for me, none of which did I have the slightest idea if they were right for the job or not. But the sales clerk at the store must have steered me right because after the first sign, I spent the rest of the week painting any number of other signs around the car wash that the owner felt needed painting.
The first sign was a hanging sign that he put out on the parking to let passersby know they were open for business. He insisted that it say, "Opin". I pointed out that it should be "Open" but he said more people would notice it if it were misspelled. Whatever he wanted was ok by me.
Once, while I was waiting, a man drove up in his Studebaker Avanti. My dad had Studebakers, so when they came out with the Avanti I was delighted. You could get one with a supercharger straight from the factory. The Avanti was moving down the washing line and I asked the foreman if I could drive it to the drying room then out onto the apron. What a treat. My sign painting days had begun.
Bob Martin Signs
In the summer after my freshman year in college, I thought I might be able to pick up a part time job doing signs locally. There was a sign painter, Bob Martin, who only lived a few blocks away. I dropped in to see him one day. I told him about my work in Des Moines and he asked me to show him what I could do. He put some newspapers up on his sign painting board, but turned them so the columns were left and right not up and down. This made perfect guide lines for painting letters. He thought I was ok, not good, and advised me to build myself a sign board and practice my letters on old newspapers. I tried it, but my heart wasn't in it. He must have changed his mind and I think he was going to take me on as an apprentice. At any rate he called me and asked if I would like to help him with a job putting up a large sign. I helped him all afternoon and after I got off work I went to soccer practice. At the practice I got injured as I have described in several other stories. That was the end of that portion of my sign painting career.
Arrow Sign Co.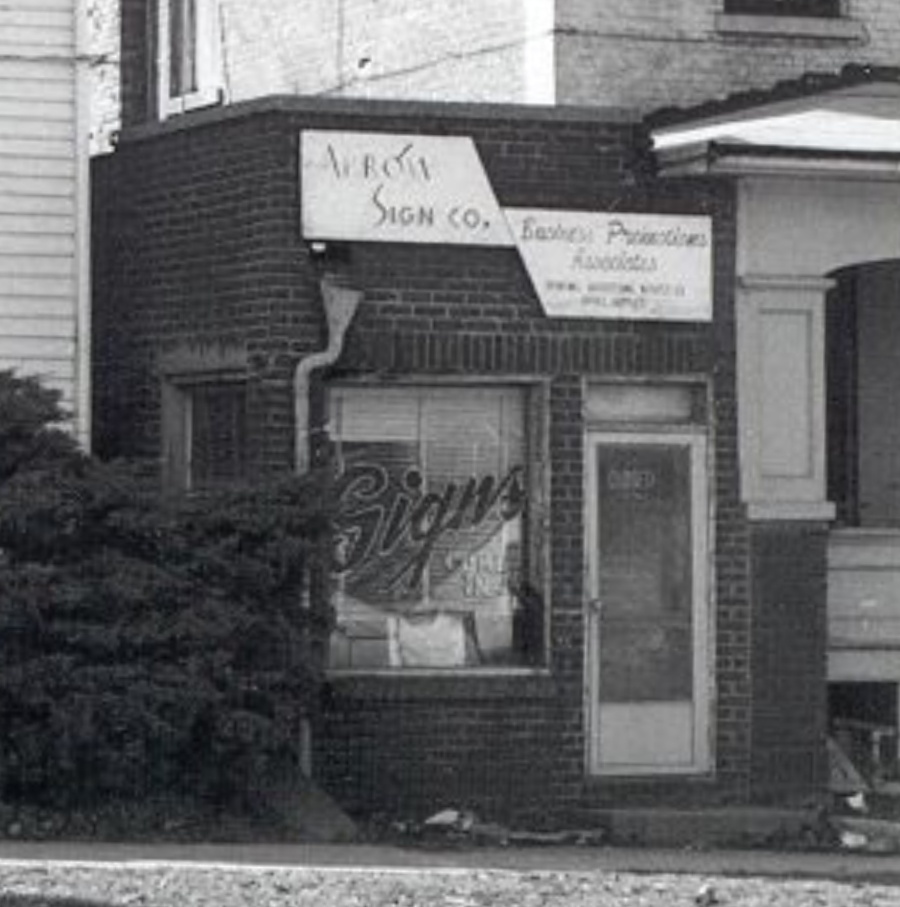 A couple of years later after I dropped out of college, due in part to the soccer injury I had received, I was living in Iowa City and I ran into an old friend, Steve Heimann, who was working as a booking agent for a guy who managed rock and roll bands. I told him I was out of work and he suggested that I try to get a job with his boss, Jim Gaeta. Jim ran his booking agency out of a little sign shop tacked onto the side of his house. He liked to hire college students who had some talent, show them some tricks of the trade, then turn them loose on the sign painting jobs that came in the door. He wanted them to be around so they would be ready to turn around any job that came in. He insisted that they hang around the shop. There were long stretches of down time but he really wanted the students to stay there. Because the workload was low, he hardly had any money to pay his workers with. I found out he had an apartment on the top floor of his house so I suggested he might pay me by letting me live there for so much a month. Even then, I got very little money, but I did have a place to stay so all I really needed money for was for something to eat. Every now and then Jim would complain that he showed the students how to be sign painters only to have them quit and become his competition. Since most of them were students, they left town in just a few years so were not an ongoing problem for him. Their competition was not so surprising when you considered how little he gave them. He showed up at my apartment one time and told me he was going to need some rent money. I said the guy I worked for wasn't paying me and that till he did, I wouldn't be able to give him anything. I think he just about always owed me a couple of hundred dollars. One time Led Zeppelin was in town on their premier tour and I asked him if he could pay me the cost of admission, $15 I think it was. He said he just didn't have the money to give me. I missed what would have been one of the best concerts of my life. There are many interesting but not so important stories from my time at Arrow Signs, but hardly any of them have anything to do with sign painting.
Cedar Rapids Herbs

A few years later I was married to my wife Karen and our son Lance had been born. I had real jobs by then, but I still painted the odd sign or two for a little extra money. One of those signs was for Cedar Rapids Herbs. The owner was Doreen Edmundson and I was referred to her by my friend, Tom Krejci. He had a small music store in that area called 4th Street Music and I had painted his sign earlier. There were several small shops along the railroad tracks. Tom's was one and the herb store was another. There was a hippy, head shop, The Folks and Uncle Leonard run by Jim and Elaine Ball. An army and navy surplus store was there. Also, there was a sign painter, Joe Kacere. I often wondered why he didn't do the job for the herb store. When I was painting the sign, he came out of his shop and chatted with me. We got to be kind of friendly. Another time another fellow came up to me and chatted. I think he ran the Cedar Rapids Art Center which later became the Cedar Rapids Museum of Art. He liked the herb store sign and wondered if I would paint a shop he owned. Off to Mount Vernon…
Mount Vernon General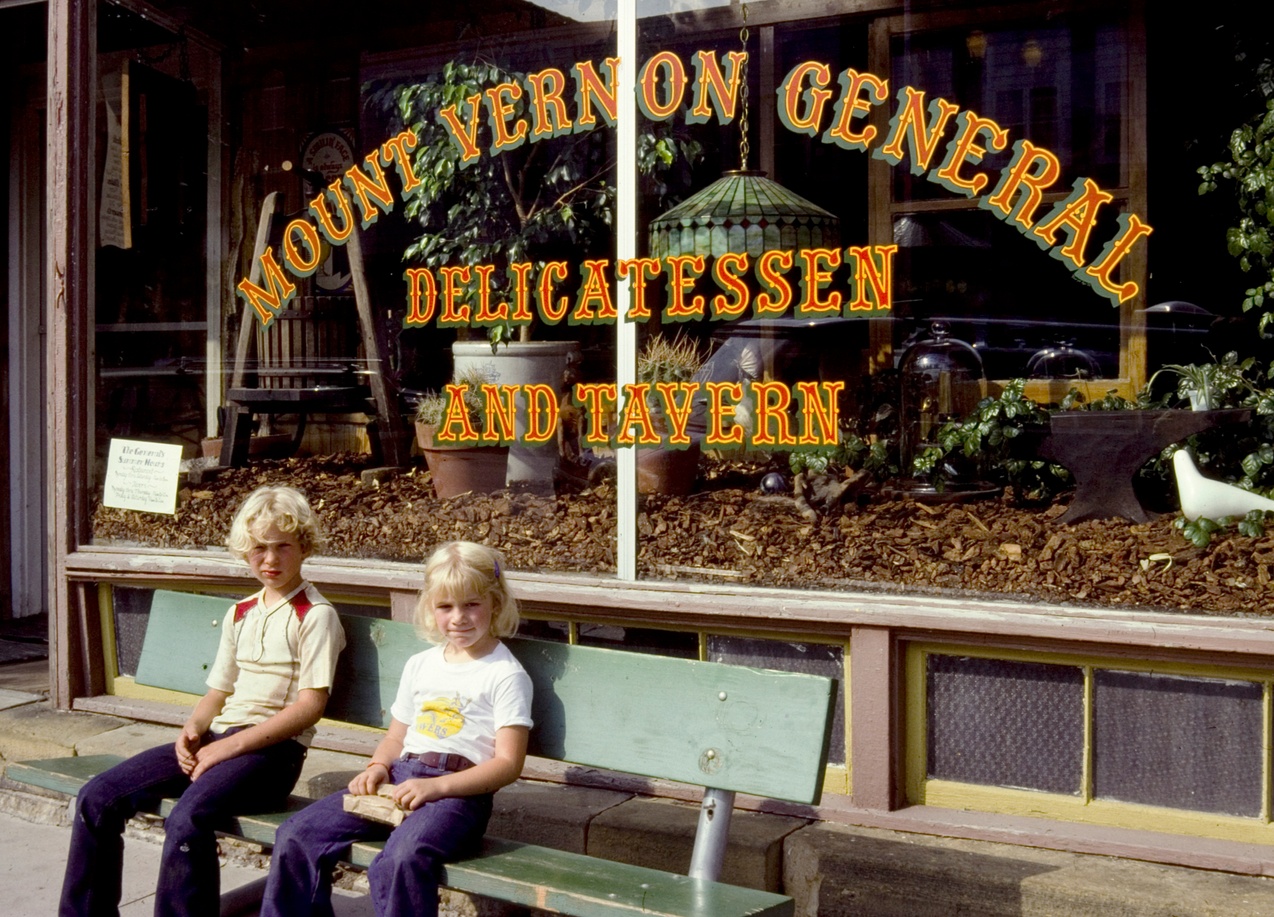 Mount Vernon General was one of my favorite signs. I'm not sure exactly what they sold. I think it was a general merchandise store. After I painted it the business was eventually sold and I thought that would be the end of it. The new owner liked the sign so much he kept the name Mount Vernon General just so he could keep the sign. I thought that was kind of an honor. Several years went by and someone threw a brick and broke one of the two windows the sign was painted on. They called me back and I repainted the broken half. A third owner also kept the name and expanded the store to a delicatessen and tavern. I was back for a third time to add that below the original part. During one of the store's incarnations the owners had someone paint a big mural of a farm auction along one wall. I never got a picture of it so if someone who reads this has a picture, please leave me a comment.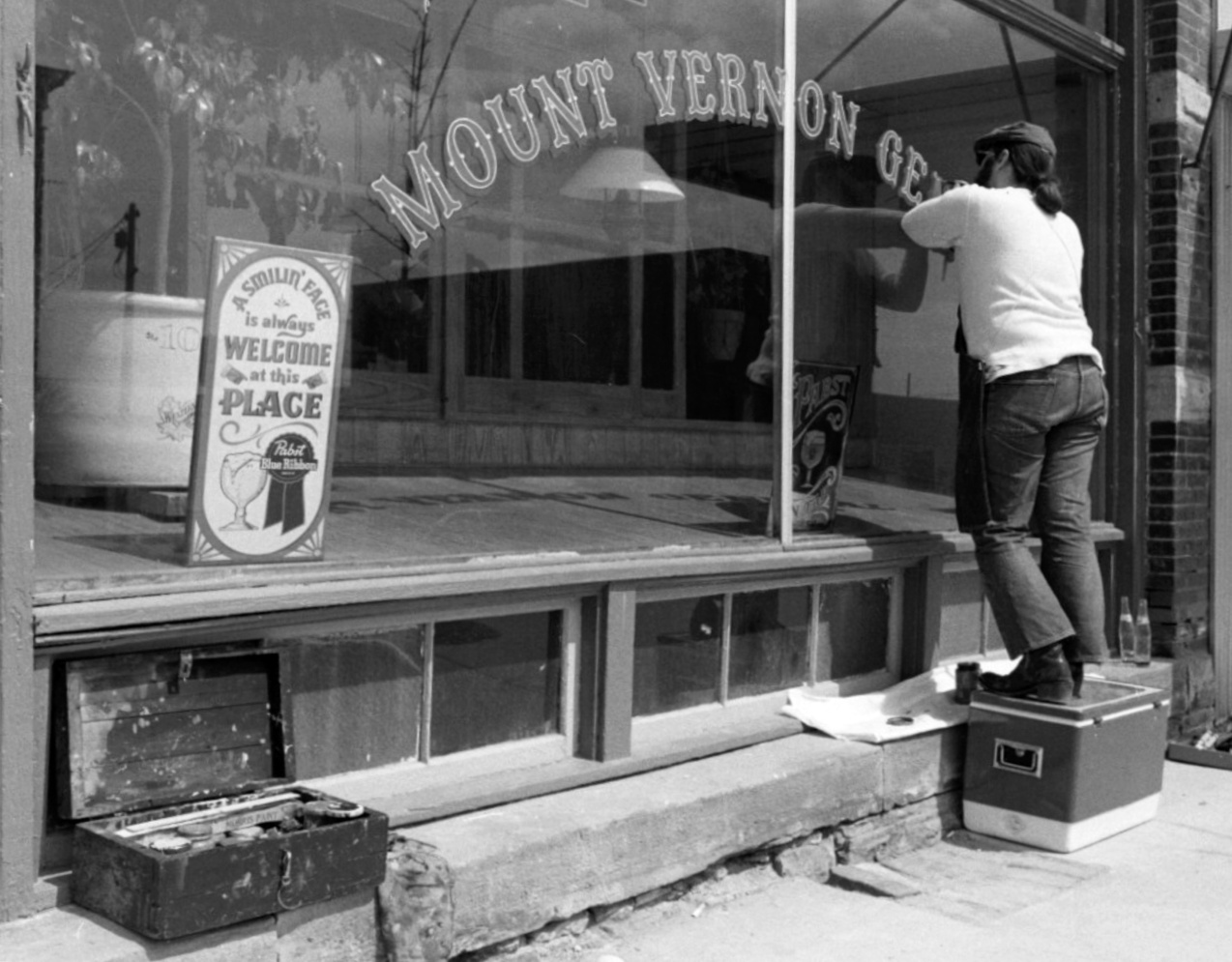 Bushnell's Turtle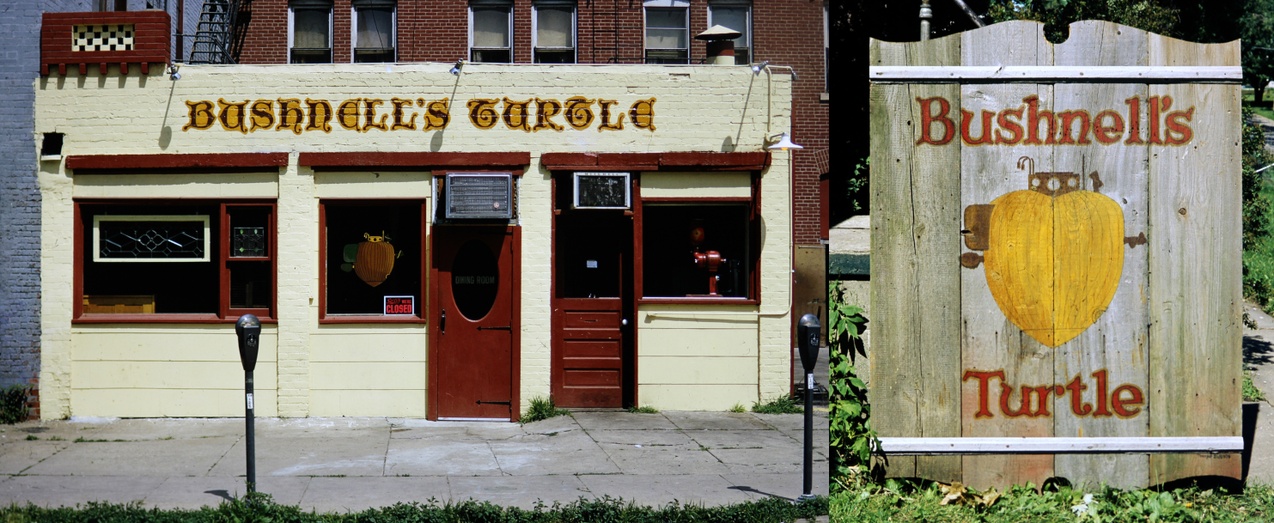 Another Mount Vernon connection, a friend of mine from junior high and high school, Sandy Feiereisen, along with her husband Stoney Harman, and his family started Bushnell's Turtle, a submarine sandwich shop in Iowa City. This was in 1972 and it was in an old building where the Old Capitol Mall now stands. I painted the name of the shop way up on the building when it was really hot out. I had to stand on a ladder and the back of my calves got terribly sunburned. It was the first time I painted a sign directly onto brick and it was a real pain dabbing the paint into the mortar between the bricks. I was happy with the results however. I also painted a picture of Bushnell's Turtle, the first submarine in the front window and I did a wooden, Colonial looking Inn type sign that they hung on the wall inside.
When Iowa City cleared out the old buildings for the mall, the shop had to relocate. They moved to some temporary buildings that were erected in the middle of Clinton Street. Stoney called me desperately saying they were going to dedicate the temporary buildings the next day. The ceremony was going to be in front of their shop and they didn't have a sign. Could I get one done and put up in time for the ceremony? He said he wanted it to say, "Good Eats" with a finger pointing to the entrance of the shop. I got it done and installed in time. All was well. But that night someone sneaked back to the shop and stole the sign so they could have it for their own.
Years and years later, my son who was only about 5 years old when I painted the original signs was at his job and ran across the the original wooden sign. As I write this, he is over 50. It was in a barn or something and was badly faded and otherwise deteriorated. He showed me a picture he took and I showed him the picture I took.
Other
In the lower left hand corner of the picture of me painting the Mount Vernon General sign you will notice a wooden paint box that I used for storing and transporting my paint and brushes. After Karen and I were married, her dad, Les Spicer, gave that box to me. When he worked on the railroad in the 1920's that box belonged to the company's sign painter who lettered the names of the Pullman cars on their sides. I feel quite honored to own it.
This post is part of the StoryWorth project that I am participating in.
At the ButchieBoy main page click the Storyworth catagory to see all the entries in the series.