Describe your personal fashion style.
Butch
I was not going to answer this topic but my daughter Wendy wanted me to write about it and even named one memory that she particularly wanted to hear about, my homemade bell bottom trousers. More on that in a minute.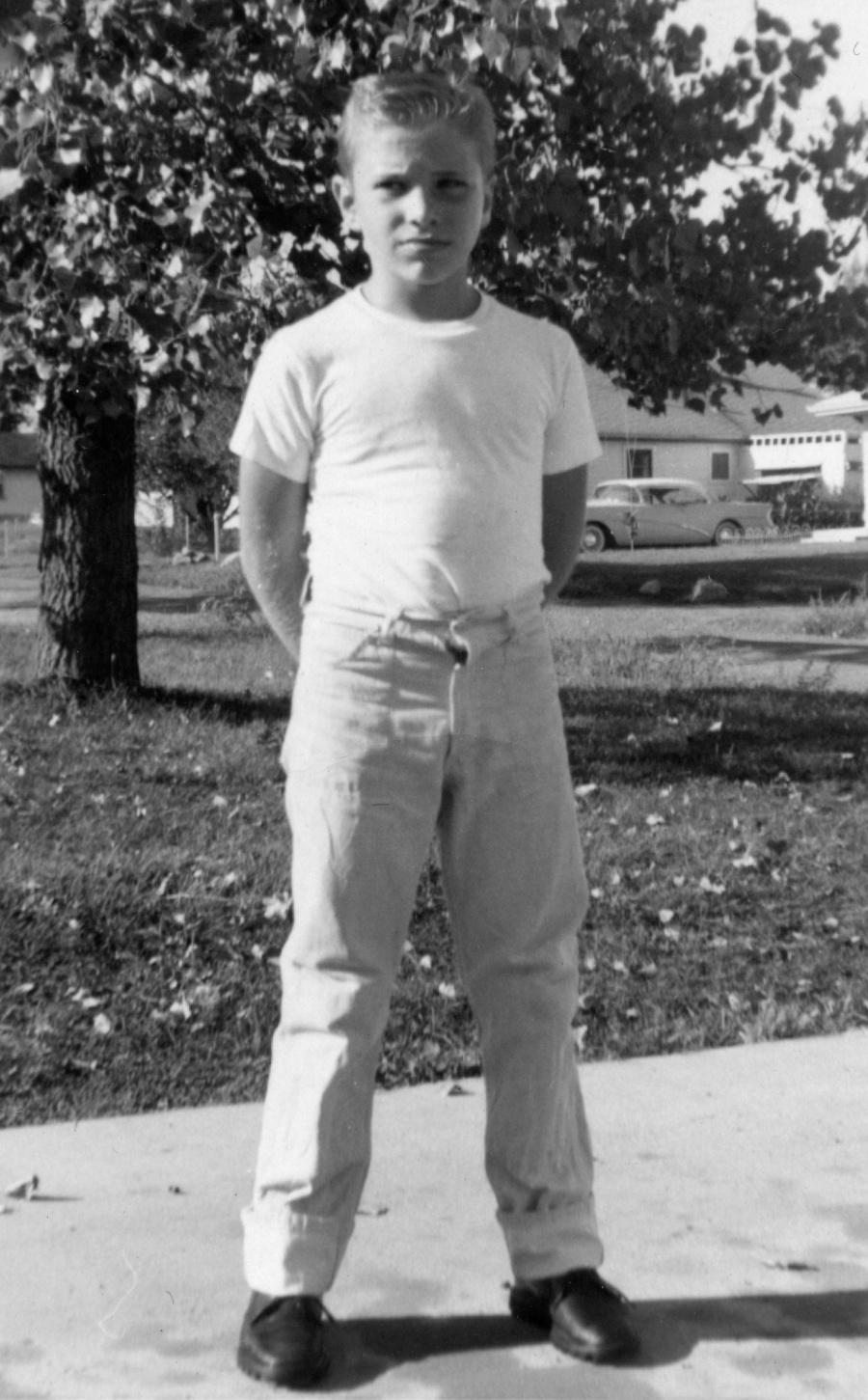 The earliest thing I remember about wanting to look a certain way came in elementary school when we first went back in the Fall. Trousers in those days didn't come in many leg lengths. Usually you just got a pair of long legged trousers and your mother hemmed them or you rolled up the cuffs to make them the proper length. More often than not, you rolled them up. Later in the school year you may need the extra length if you had a growth spurt. Since I was always a shorty, I had more pant leg to roll up to make them just right. The cool way to do this was to just roll the cuff once. That left it about six inches long. The picture gives you an idea of what it looked like, but my cuffs were usually much longer.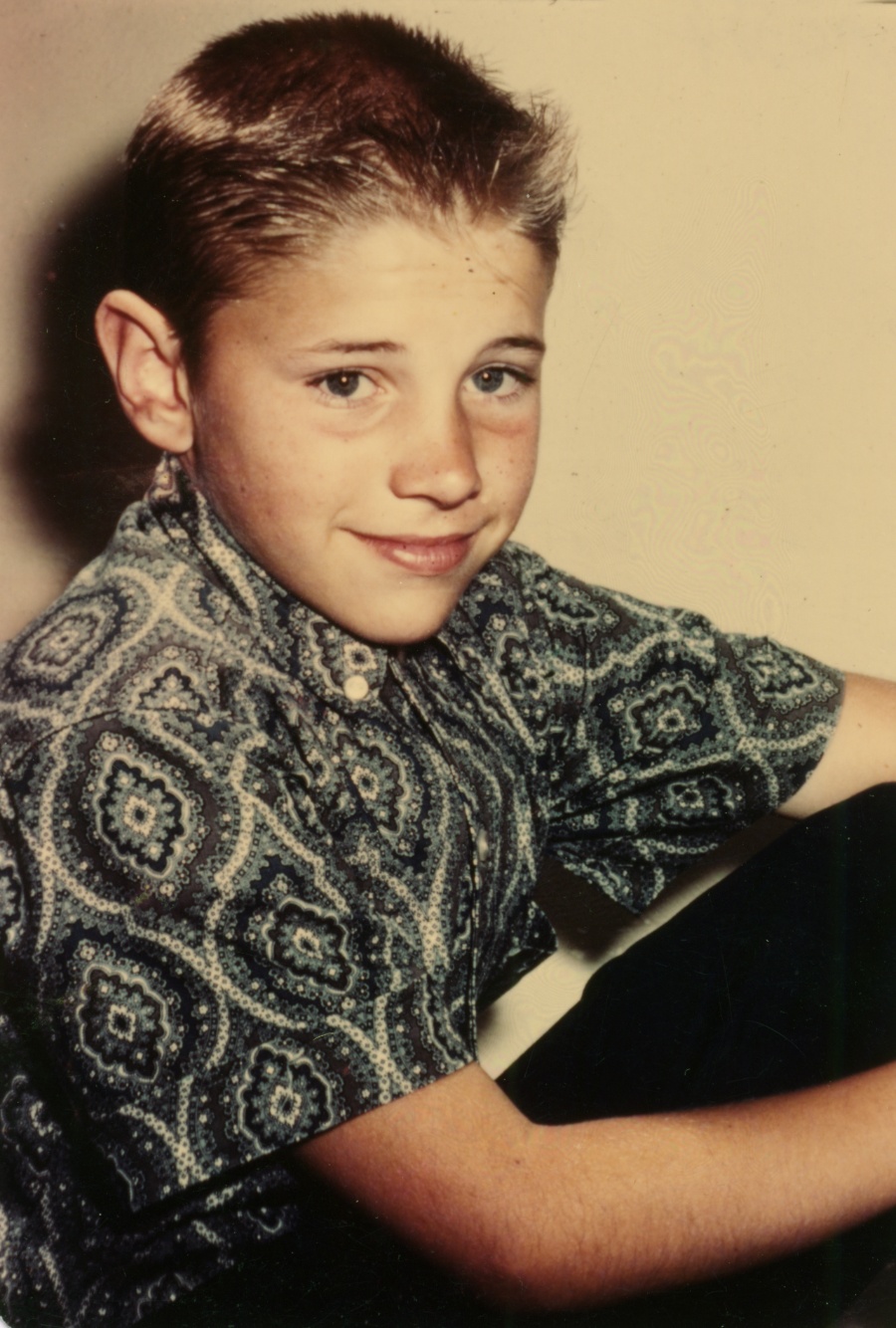 Another aspect of these times was haircuts. For some reason Mom liked really short hair. There were three ways you could go to make this happen. Despite my nickname being Butch, my mom would never allow this style, too short I suppose. Next up was a crew cut which was just a Butch with a greased up longer bit of hair in the front. The third style was a flat top. This was a longer variation of the crew cut but required a lot more styling by the barber. Usually my hair was somewhere between a crew cut and a flat top.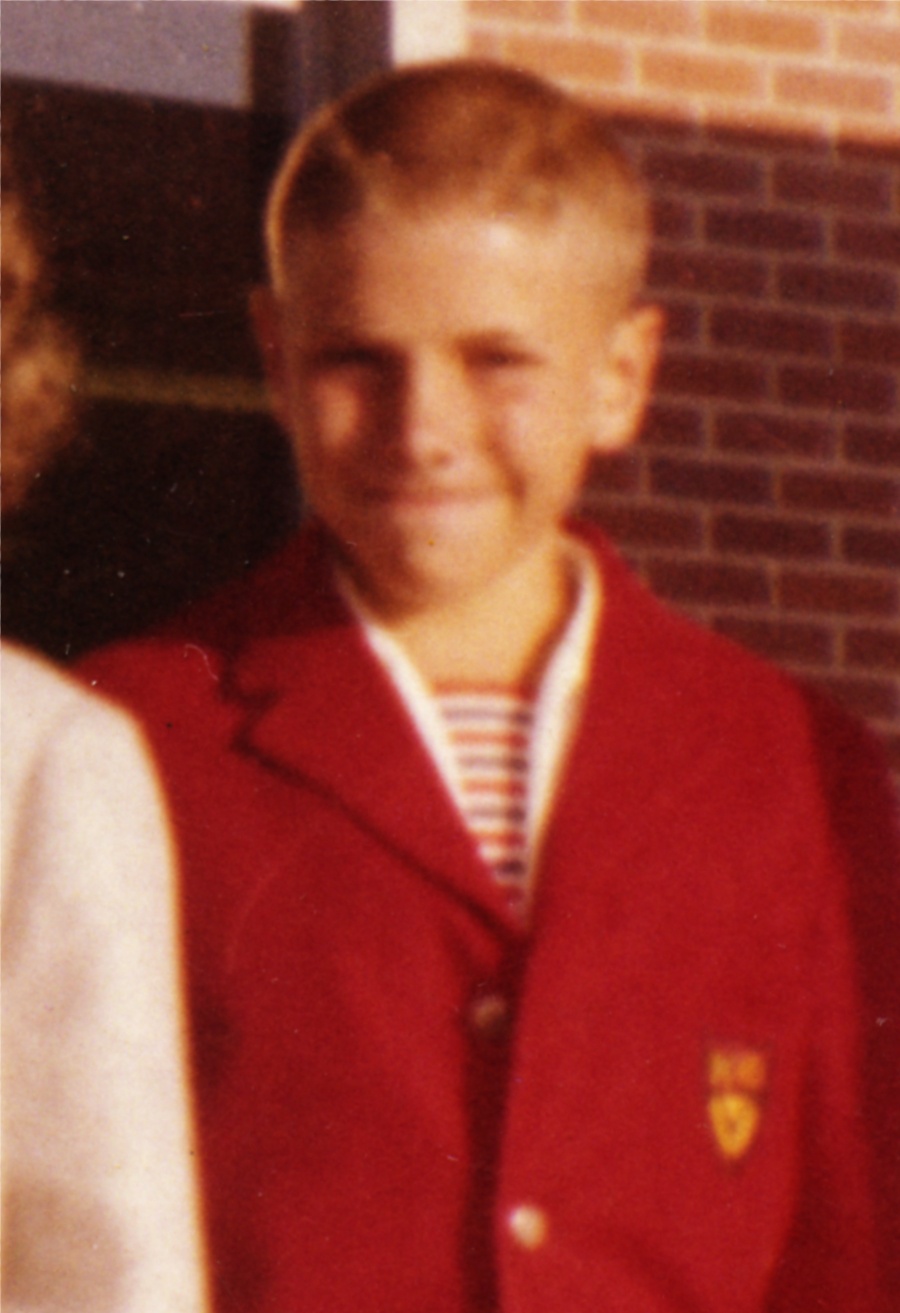 Around the time we went to England in 1960 Mom's next big idea was to dress my brother and me in bright red blazer jackets, the kind with a crest on the front pocket. I thought the blazers were a little twinky looking but I didn't mind them too much. By the time I'd had two of them I liked the idea of wearing them. No one at school had anything like that.
In late 1963 the Beatles hit. I was taking a wait-and-see attitude about whether I liked them. Up to that point I pretty much liked comedy songs; Beep Beep, the Witch Doctor, Purple People Eater, that sort of thing. Then Hard Day's Night came out and it blew me away. I became a teenager in spirit and not just in age that day. I started combing my hair in a Beatles cut. I got shirts with high, buttoned down collars. This was a mistake of course because I had a short, stubby little neck that didn't do the high collars justice. The pants I got had some sort of elastic in the material so they were very tight.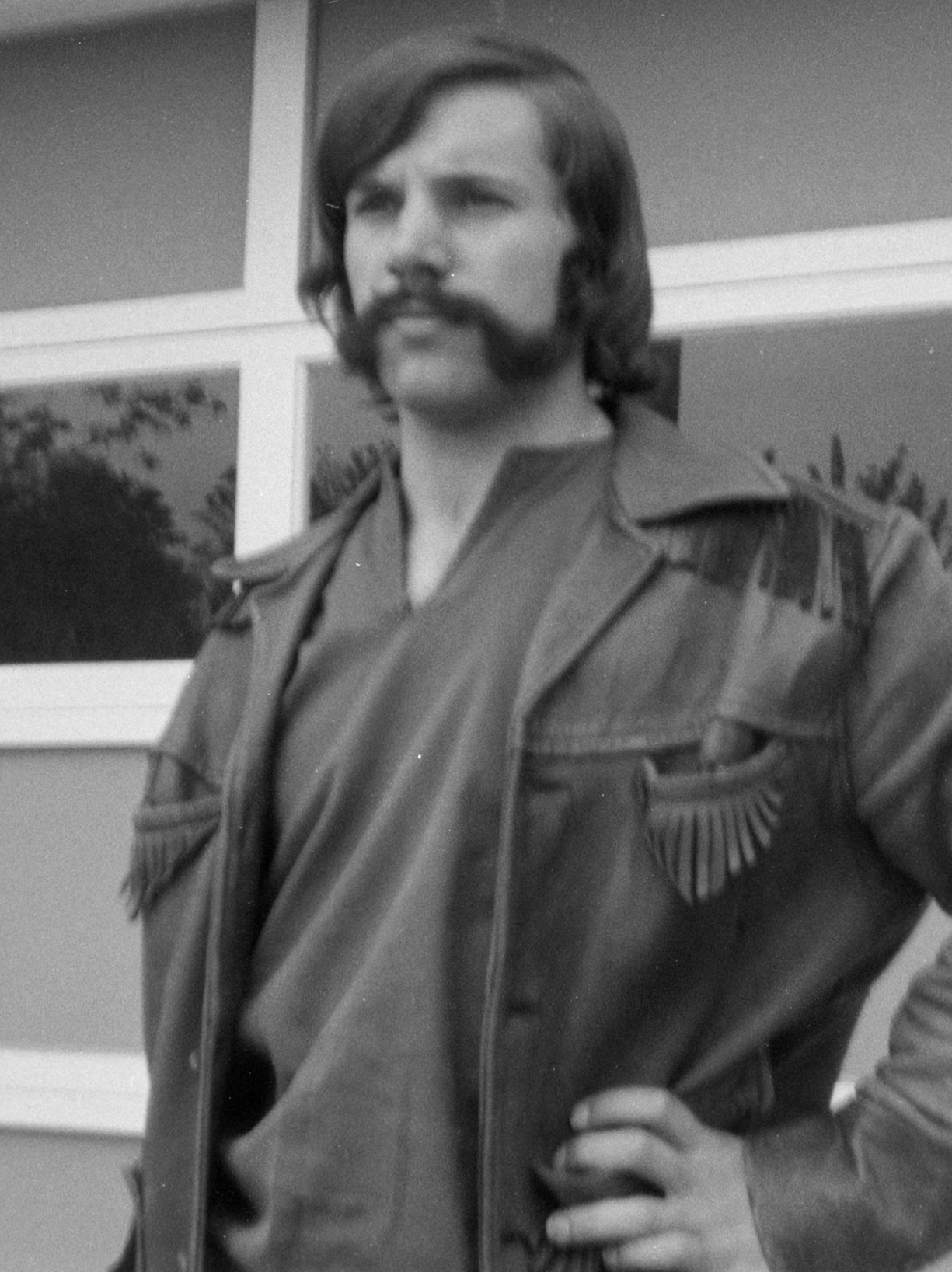 The next fashion craze came in college. After the Summer of Love people started wearing hippie style clothes. I did too. Fringed jackets, vests, and bell bottom trousers. The bell bottoms were not particularly easy to come by. A trick to overcome their scarcity was to make them yourself. You would split the seams of the legs from the cuff of your jeans up to the knee and put a triangular piece of material in that would make the bottom of the cuffs much bigger. My friend Mike Shahan's mother ran a dress shop and gave me a nice piece of material for the purpose. It was bright orange velvet. I asked Mom to sew the triangles in for me but she flat-out refused. I got out the manual to her sewing machine and taught myself to sew. By the end of the day I had the most stylish bells in town.
I asked my cousin Susan who lives near London if she could go up to get me some flash bell bottoms, which she did. She got 4 pairs; a brown wool pair with a fine hound's tooth pattern to the material, a bright golden velvet pair, and two regular pairs, one green and one blue with vertical pin stripes about every inch or so. The brown and gold ones fit perfectly, but the others were too small for me. It worked out ok because they fit Karen perfectly and they became hers after we were married.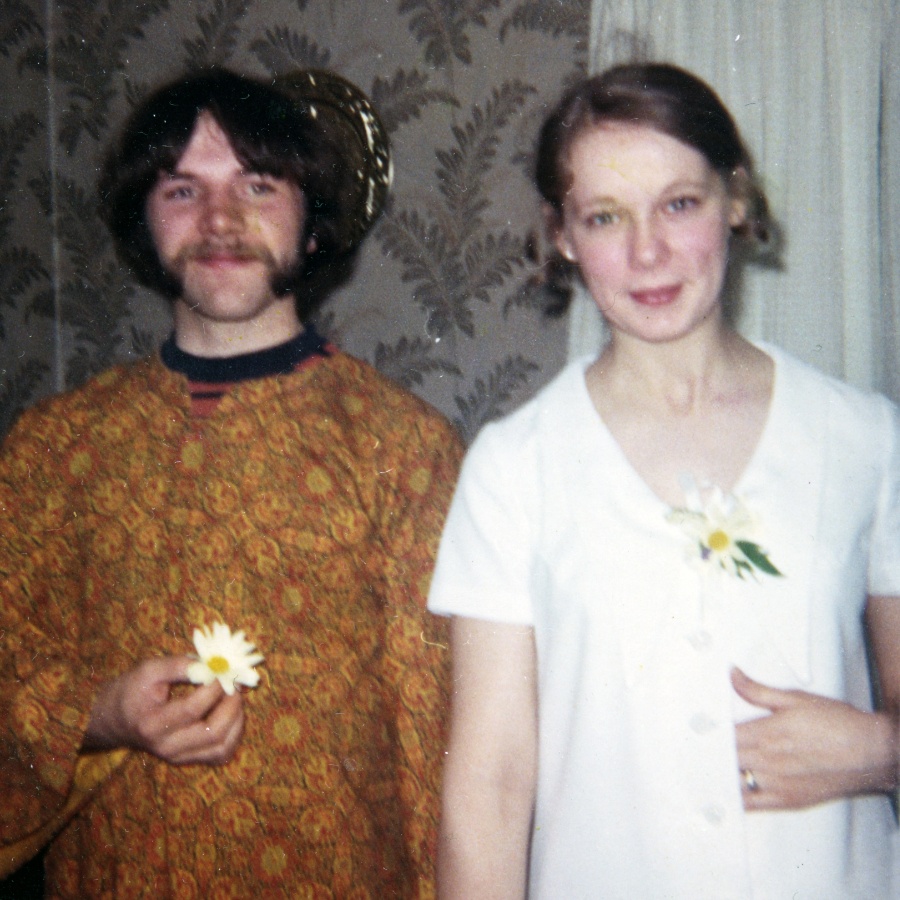 By the time Karen and I got married in 1969 I had made myself a couple of simple, pull-over shirts. One of which was golden paisley that I used for my wedding shirt. I accompanied that with the golden velvet bell bottoms from Carnaby Street and a pair of cowboy boots. No matter how many times I tell my brother Bunny that I wore the gold bell bottoms, he still thinks I wore the ones with the orange inserts.
Later on, when I graduated from college, Mom bought me a nice suit. Though her heart was in the right place, it was a disaster from start to finish. I have a body that is about eight standard deviations away from the mean. I have a large chest and a big stomach but I was substantially shorter than the average guy. This forced me to get a custom made suit that was called a short-portly style. No one stocked anything like that so it had to be hand made, sort of. No matter that they took extensive measurements to make the suit right, it is based almost entirely on the jacket. That is the only part of it that turned out ok. Because I have a large torso, the suit manufacturer assumed a needed large trousers as well. The measurements they took should have told them that the pants that were the standard size for that suit were going to be too big and that they should have made a smaller pair. But when you order one of these suits they send it to you like they want. The standard pants are what you get. Alterations on the suit came with the cost of it so they reasoned it was going to be all right. Well the waist of the trousers was about eight inches too big. In order to make them fit they cut that eight inches out by the back seem, leaving the back pockets wrapped around my butt and only an inch apart. To top it off, the matching vest was so small that I could never button it, making it useless.
In some of the jobs that I held, I had to wear a jacket to work. Luckily, if I bought a sport coat I could get by with only having the sleeves shortened. Being around dangerous manufacturing equipment allowed me to forego a neck tie that could otherwise be pulled into a spinning lathe or printing press. I was never sorry about that small blessing.
The rest of my life the most dangerous thing I had to be around was a drafting table and later, a desktop computer. This has allowed me to wear a pullover shirt and a pair of jeans. Just what I like the best.
Karen
When I was a little girl, my mom made little dresses for me. I remember pictures of me in fabrics like dotted Swiss. When I was school-aged, the style was for girls to wear dresses with full gathered skirts with starched taffeta petticoats underneath. I remember a beautiful 3-tiered gathered skirt I had in 3rd grade that was made with a light cotton print with small orange butterflies all over it. I felt absolutely beautiful in it. We always got new clothes in the fall before school started and of course new shoes. Shopping at J.C. Penney's for a pair of Buster Brown shoes was very exciting.
When I was in high school, I learned to sew for myself and made pretty much all my own clothes. Girls had to wear skirts and dresses to school so I made many wool skirts, jumpers, dresses, and blouses. I got a job when I turned sixteen so I also bought most of the fabrics I used and also my leisure type clothes. Mostly, I wore jeans to school activities like sports events and such. The coolest jeans were called wheat jeans because of the light creamy buff color of the denim. The style was to wear tight wheat jeans and madras plaid shirts. Madras plaid allegedly came from India and the colors ran and blurred a bit when they were washed. My dad told me once as I was leaving the house, "Those pants are so tight you could crack a louse on them!" He may not have liked them but never said I couldn't wear them!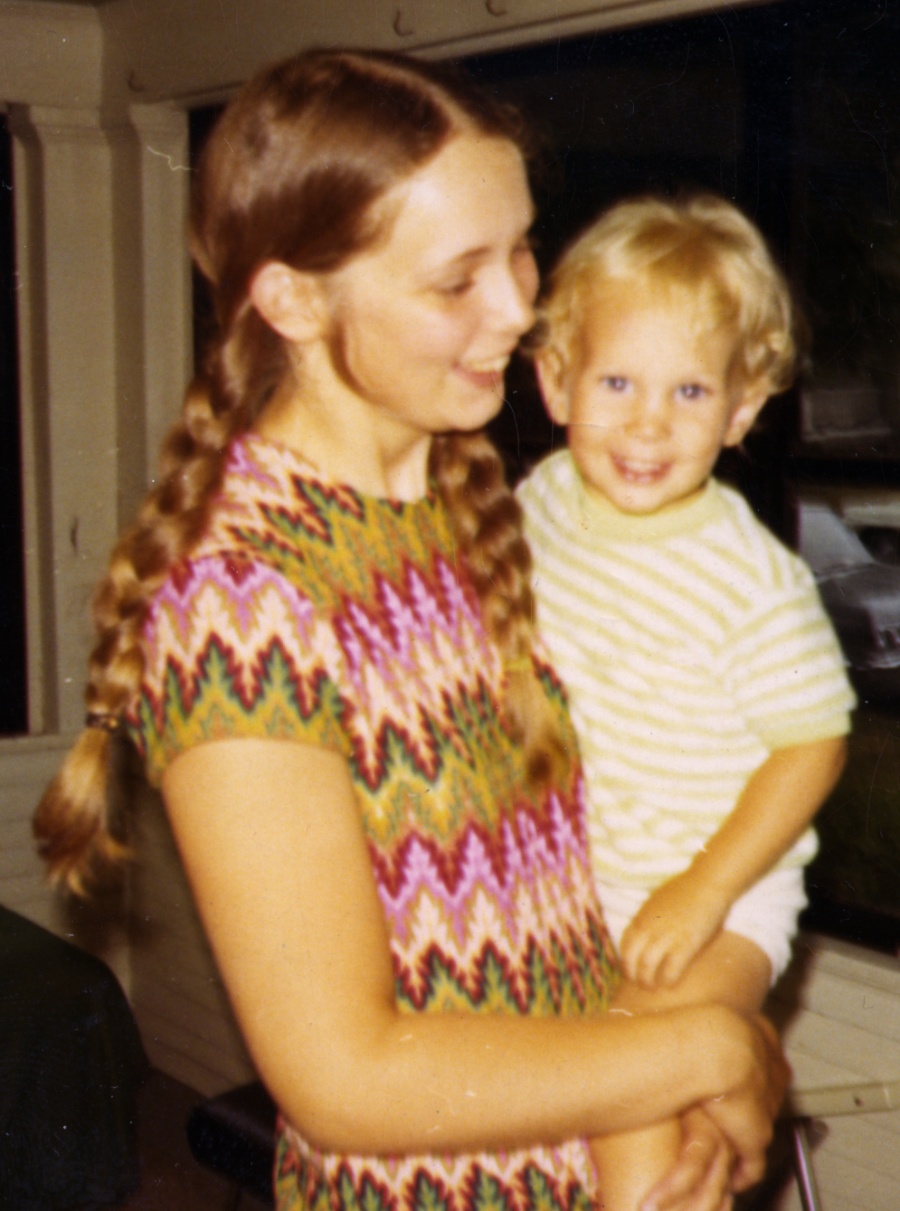 At first, when I went off to the University of Iowa, my style was a continuation of high school clothes but soon the influences of the "Hippy" movement began to creep into my wardrobe along with hip hugger bell bottom jeans, psychedelic colors and patterns, and cowboy boots. Also skirts were "mini" during that time and hems only reached to mid-thigh. Butch and I were married in 1969 and my wardrobe continued to be modestly hippie-ish with Indian prints, short skirts, and mod patterns. This was my all-time favorite era of clothing, partly because I liked the style but also because it was the time of my life when I felt most attractive in the clothes I was wearing. At the same time, I grew my hair long and often wore it in long braids or a braid crown.
When I graduated from college and got my first teaching job I transitioned into more teacher-like outfits. They were kind of frumpy and mom-ish and often were chosen because they would stand up well to working with young children. I could sit on small chairs, work with messy art materials, and get on the floor to work with kids without worrying about ruining anything. As I moved to a more administrative role, I started to wear suits and more professional type clothes.
Now that I am retired, comfort is the most important factor in clothing choices. I spend most of my time in jeans, knit shirts, and comfy shoes. Most of my clothes are very casual and I only have one or two outfits that I can wear if I need to dress up a bit.
This post is part of the StoryWorth project that I am participating in.
At the ButchieBoy main page click the Storyworth catagory to see all the entries in the series.